If your products are sold off the shelf at retail, you know retail execution starts with merchandising. Merchandising can be a powerful tool that benefits your brand far more than simply making sure shelves are neat. A great merchandising strategy can help not only boost sales, but also improve your brand recognition and relationship with retailers.
Read on to learn more about the three merchandising strategies that can give your brand a competitive edge on the shelf.
1. Profit Generating
This form of strategic merchandising is associated with items that typically have a higher selling price, and hence a higher gross profit margin. Such products usually have a high stock turnover and are often bought as impulse purchases. They also have a perceived value that justifies their more expensive price point.
How to Merchandise:
Utilize

cross merchandising

- pair complementary products nearby one another to encourage last-minute purchasing decisions.

Increase exposure to high-margin products by placing them in high-traffic areas or "hot spots" within the store.

Use signage and language that promotes the lifestyle associated with these products, such as leisure and luxury.
In this classic example of cross merchandising, Grillo's Pickles secured a secondary placement alongside the store's potato chips to encourage snack sales for an upcoming football game.
Make sure your retail merchandising strategy is working as hard as you are with this free best practices guide to retail merchandising >>
2. Turf Defending
Turf defending is a type of merchandising intended to protect market share from a known competitor (or competitors) in the same category, as well as maintain customer loyalty. It's ideal for frequently purchased items that have a wide customer base. There is more risk assumed with this tactic than others because of the high margin investment that it demands.
How to Merchandise:
Implement aggressive pricing and promotional efforts, such as high-value coupons.

Bargain for optimal shelf position (eye level).

Invest in consumer education of your brand and its product to ensure interest and repeat business.
This beef stick company highlighted heavy price cuts in this display, drawing in shoppers who might otherwise have selected their competitors from a nearby shelf.
3. Image Enhancing
This method is concerned with promoting a brand's image in regards to quality, variety, price, usability, or presentation. It offers a more long-term solution to brand building.
How to Merchandise:
Provide exclusive product offerings or product families.

Offer competitive pricing in your category.

Focus on being innovative, unique, or seasonal.

Train field reps intensively so they can relay your brand's message to consumers.
DrinkMaple's pop-up shop focused on educating customers on a category they might not already be familiar with, while pushing for immediate purchases with a buy-one-get-one deal.
Role of Merchandising in Retail Strategies
Merchandising efforts can be win-win for both brands and retailers, as both parties enjoy a lift in sales, thus strengthening retailer-supplier relationships. Moreover, a carefully-planned merchandising strategy is always tied to a specific objective, therefore allowing suppliers to more closely track success in the retail environment and make tweaks where necessary.
For a quick, snackable version of this article, feel free to save this infographic for future reference!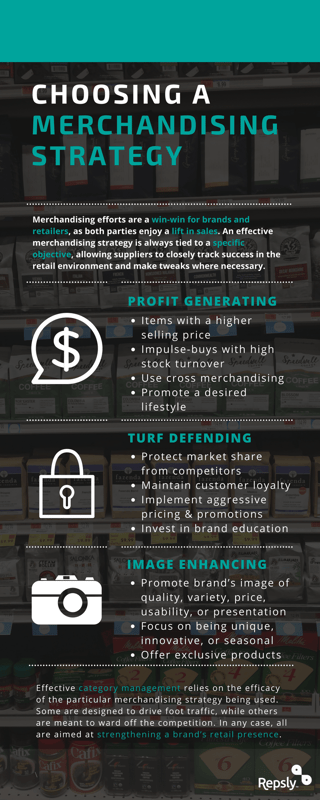 Victoria Vessella
Victoria is a Marketing Associate at Repsly, where she leads the company's P.R. and social media efforts. You can also catch her prepping for slew of exciting industry events. A New England native, Victoria has spent time living in Italy and traveling throughout Europe before settling back in Boston. When she's not planning her next trip, V is probably tasting wine or brushing up on her Italian.