Managing a field sales team across various territories is no easy task. While the goal is to maximize the efficiency and time of your field representatives to produce sales and satisfy customers, it's easier said than done. Below we tackle the most frequently asked questions about territory management to help you and your field sales team improve in 2019.
What Is Territory Management?
Territories are sets of retailers in a geographic region or district that are assigned to field representatives for account management. Territory management is the process of organizing these territories and the teams/individuals assigned to those territories in order to manage accounts take advantage of the opportunities in each region. Also known as sales territory management, it includes the maintenance and nurturing of current client relationships. These districts can be organized based on factors such as time management, account type, or client prioritization.
What's the Difference between Outside Sales and Inside Sales?
"Outside sales" refers to activities sales representatives conduct in the field to sell your product to prospective clients. Sales reps are always on the move between potential customers, typically managing their own travel schedule and adjusting to the relative needs of the territories they cover.
In contrast, "Inside sales" refers to sales activities carried out by sales representatives from the comfort of the office or their own home. Typically, these types of sales are driven by cold calls, emails, and other forms of outreach. Territory management incorporates both inside and outside sales techniques but is more often associated with outside sales.
How Should I Divide Territories?
When splitting up the territories between your field reps, keep in mind factors such as territory size, obstacles, demographic, retailer size, and short term vs. long-term potential. A common way to organize territories is by buyer personas, which are fictional generalizations of potential customers with the same type of product and similar needs. Also, dividing territories requires being specific about which geographic areas you assign to which sales reps. This delineation prevents confusion and territory overlap between members of your sales team. As you assign territories to your team, keep in mind the strengths of each member. Some field reps may have more experience with certain types of retailers while others may work better with certain types of products. It's up to you to determine how best to organize your team. Organizing your team in this way will only help them succeed.
How Do I Go About Creating a Sales Territory Management Plan?
The sales territory management plan is any field manager's road map to success. Effective sales territory plans will save your team time and money while driving sales. When creating your sales territory management plan the focus should be on reaching out to new clients and taking clients from your competitors all while maintaining and nurturing the relationships that exist with current clientele. Your plan should help you achieve these three objectives. Here are five steps to get you started.
Segment your customers: Whether you're grouping them by size, product, or need, create categories for your customers for better organization.

Develop a plan: After defining your objectives, use feedback from your sales team as you create the best plan to achieve success.

Plan your routes: Create routes from client to client to maximize efficiency and time

Delegate: Assign your field reps to the territories that you believe they'll find the most success in.

Implement and evaluate: Now it's time to put your plan into action! Keep track of what works and what doesn't and don't be afraid to experiment.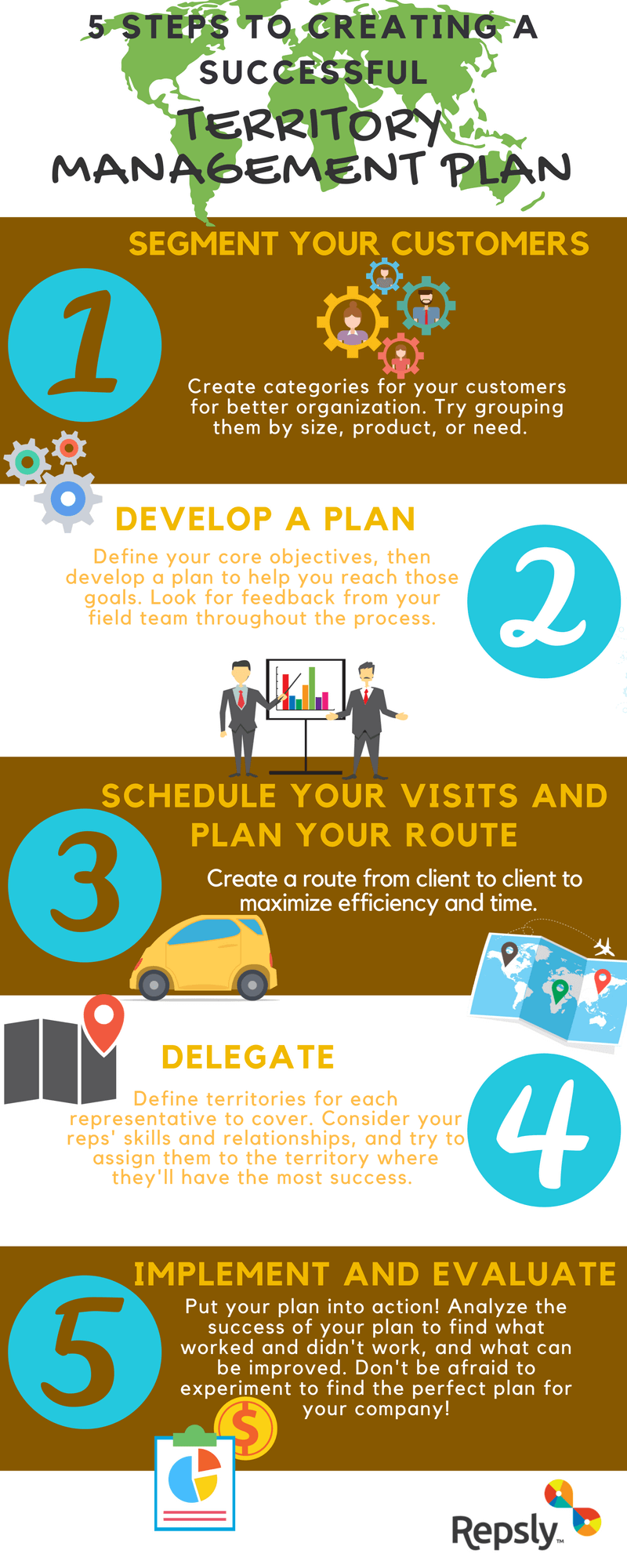 What are Some Territory Management Best Practices?
Now that we have the important concepts down, let's look at some of the best tactics to use in the territory management game.
Prioritize your most valuable sales territories
This may sound like common sense, but your best sales reps should be assigned to the territories with the greatest potential. While it isn't always the case, you often only get one chance to impress a client. Put your best foot (sales rep) forward.
Track data to stay ahead of the competition
Collecting and analyzing data is vital to learning about which strategies are effective and which ones need to be altered. It allows you to see the impact your sales team is having on your bottom line with their activities out in the field. Adopting a data-driven approach will lead to a more efficient sales strategy and increase future sales and opportunities.
Maximizing Your Scheduling
As your team begins to meet with clients, you'll quickly learn which visits are like quick pit stops and which ones take a little longer than expected. Becoming familiar with timing will help you plan the most efficient routes from customer to customer. In addition, it'll help your reps organize their days better when they know approximately how long each client may take.
Colin Chiakpo
Colin Chiakpo is a Content Marketing Intern at Repsly and currently stuides Behavioral Economics Boston University. When he's not writing articles on marketing or learning more about more about brand building, Colin can be found at the movies or playing pickup basketball.