Once thought to be virtually indestructible, large consumer packaged goods (CPG) companies today are struggling.
According to Bain and Company, from 2012-2016 a whopping 85% of the 50 largest CPG companies saw a significant decline in revenue, profit, or both. In true David and Goliath fashion, a significant factor behind this has been the emergence of smaller, more agile brands that have captured market share across almost every category and country.
With that in mind, what can CPG teams do to stay ahead of the game? One exciting possibility is the adoption of artificial intelligence, which BCG anticipates can help CPG brands unlock more than 10% in revenue growth. Here are 3 ways A.I. can enhance the CPG retail experience.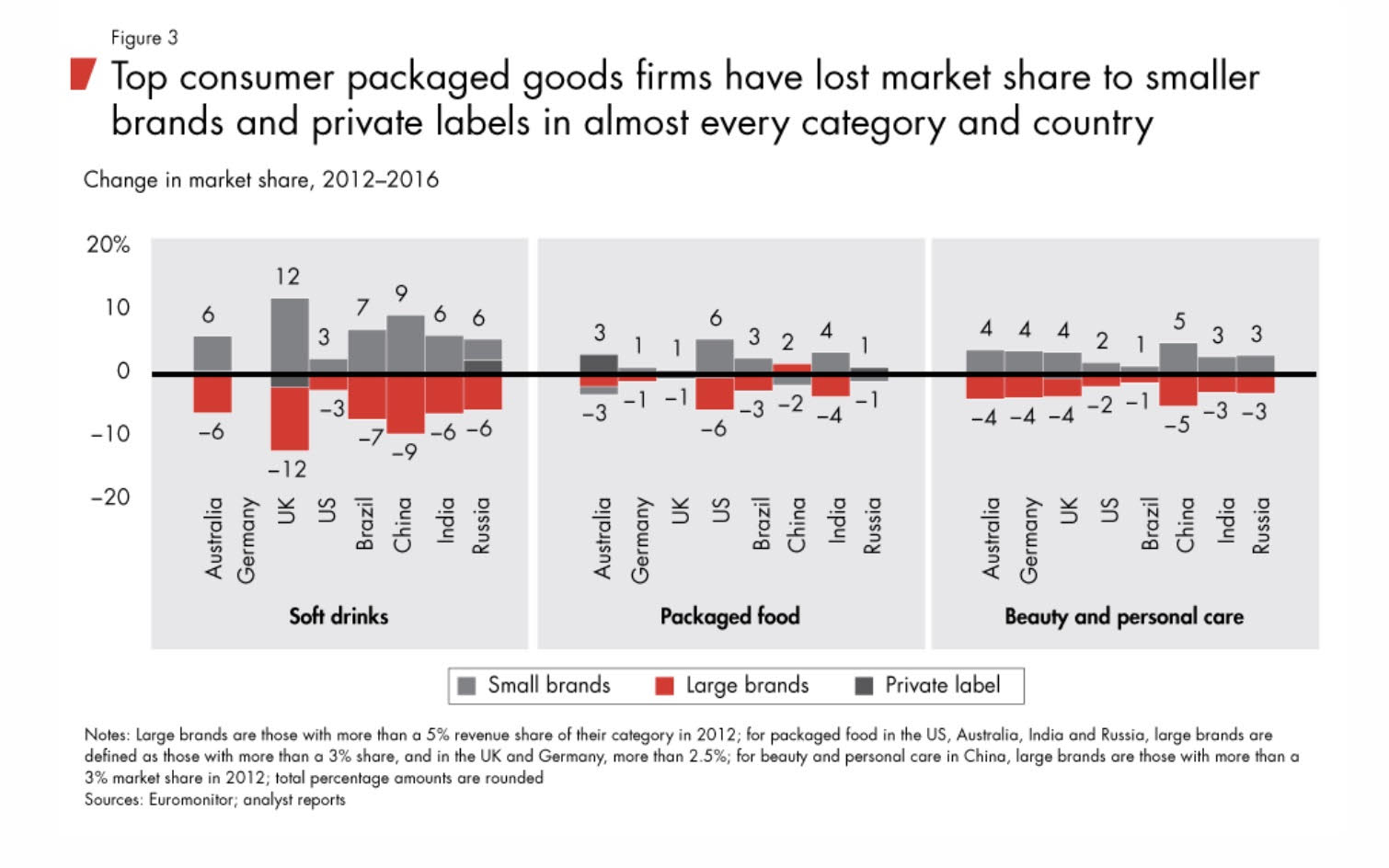 Effectively Optimize Sales and Promotions
There are very few things that can grab a customer's attention better than a juicy discount. With consumers increasingly turning to eCommerce options for speed and convenience, enticing in-store promotions have become even more crucial in retaining customers. Yet, carrying out such promotions effectively can be challenging, with an estimated 72% of promotions failing to break even.
Incorporating the use of artificial intelligence can help CPG teams be much more precise in optimizing their in-store promotions. CPG teams can train machine learning algorithms on large amounts of historic sales data and uncover crucial trends and opportunities. This can help CPG teams implement the most appropriate price promotion at the correct time and place.
Additionally, such algorithms can also help teams better model future sales performances, allowing them to make revenue projections and manage sales budgets more effectively.
Increase Understanding of In-store Customer Behavior
Beyond the numbers, another crucial aspect of improving physical retail performance is understanding how customers actually behave in stores. A.I. provides retailers the opportunity to gain an intimate understanding of how customers interact with in-store products and displays, beyond what they will be able to observe via numbers and sales data alone.
Technology such as A.I.-powered video analytics enables retailers to observe small behavioral nuances, such as how much time consumers spend standing in front of a particular shelf, or even how long their gaze lingers over a product. Such observations can help teams make small adjustments that can greatly improve the shopper experience.
Manage Inventory Levels
One of the worst shopping experiences involves the long walk down a shopping aisle only to realize that your favorite brand of breakfast cereal is out of stock. Not being able to fulfil a shopper's needs, or losing that customer entirely due to inventory issues, is a nightmare situation for any CPG retailer.
Artificial intelligence can help mitigate these risks by helping teams both understand the existing inventory situation across a number of stores, while also anticipating and preparing for future inventory needs more effectively. The use of tech like smart shelves (which include electronic price labels that can change price according to outside variables) can help retailers quickly understand how items are performing on the shelves, and direct employees to make necessary adjustments in real-time.
At the same time, by training machine learning algorithms on historic sales and inventory data, CPG teams can also uncover optimal inventory levels for different types of products across different retail locations. This helps retailers to distribute merchandise with more precision, and reduce excessive inventory holding costs.
Summing Up A.I. in CPG Retail
When it comes to the adoption of A.I., there are an endless number of opportunities for CPG teams to find ways to improve the way they optimize sales, understand consumers and manage inventory. With smaller brands and eCommerce proving to be formidable sources of competition in the foreseeable future, it's time for CPG teams to step into this brave new world to unlock growth and get ahead.
Kevan Chew
Kevan is a member of Remesh's marketing team! New to NYC, he has developed an aggressive love of writing, bagels and coffee.