This spring, we released our most anticipated new product yet: an all-new reporting platform that gives field teams everything they need to make data a part of their daily workflow.
In this post, we'll break down nine of the most powerful new capabilities we've packed into the Advanced Reporting module so you can see exactly why we're so excited to share it with you!
1. It can show you how and where your products are moving off the shelf
Repsly's Advanced Reporting dashboards can now give brands a picture of where their products are selling fastest — and why. By connecting with point-of-sale data from your retailers, distributors, and syndicated providers like SPINS, IRI, and VIP, you can view sales velocity alongside retail execution activity in a single dashboard.
Whether you want to track the success of a new SKU by store location or understand how execution impacts velocity, Advanced Reporting can help you understand where and why your products are moving off the shelf.
2. You can put a dollar value on every void fixed, display installed, or shelf reset
With point-of-sale and retail execution data together in one place, brands can start to measure — and maximize — the impact their field team has on sales. Should your team focus on winning more facings at the home aisle or installing new displays on the racetrack?
Our new Advanced Reporting dashboards make it easy to connect your team's activity in the field to your brand's outcomes at the register, so you can answer questions like that in minutes, not hours.
3. You can measure the performance of sales and merchandising programs over time
Beyond your brand's special promotions and sales campaigns, every field team has core programs that they run during a typical store visit. Whether that's pulling stock from the back room and resetting the shelf or defending your shelf territory from competitors, you can use Advanced Reporting to help your team get better week after week.
How many stores are we able to visit on average? Should we spend more time with the buyer? How can we more effectively win space on the shelf?
Adding data to the conversation around questions like these helps everyone focus not just on working hard, but improving by working smart every week.
4. You can get alerts on execution and sales gaps by territory, store, and representative
Why wait for a weekly or monthly report to tell you there's an opportunity to improve when the data is available that same day? With Advanced Reporting, you can get real-time alerts on key sales or execution gaps so you can take action to reclaim lost sales immediately.
Notifications in Repsly are completely customizable, but here's just an example of the types of alerts you could get:
One of your highest-volume banners is out of compliance for your latest promotion
Your best-selling SKU hasn't been scanned in a store in 2 days
One of your sales reps is behind goal by more than 15%
Territory coverage slipped under 30% last week.
5. You can give every stakeholder access to the data that's right for them
There's no limit to the number of dashboards you can create in the Advanced Reporting module, so you can easily give every stakeholder a view of the data they need to do their job more effectively. Not only can you segment territory views for your regional managers, but you can give executive stakeholders a high-level view of performance without diving into the weeds.
Plus, third-party merchandisers and brokers can even create individual dashboards for each of their clients to highlight the work they do for their brand every day.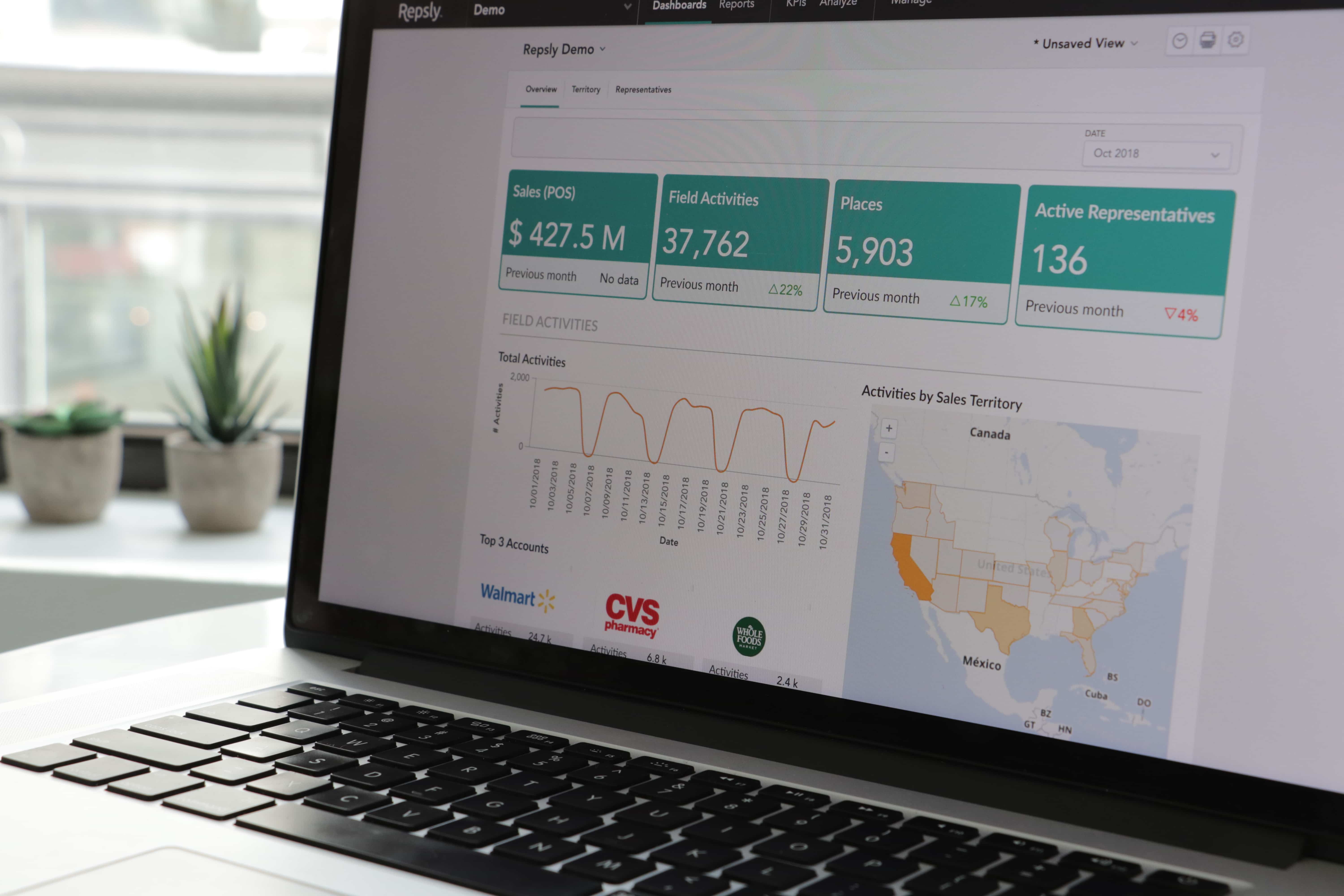 6. It can communicate with your existing systems via our flexible API
One of the biggest advantages of using Repsly is the data you can get about your sales team's activity in the field. While the new Advanced Reporting module is ideal for connecting that data to sales trends, you can also use it to pull in data from your other systems (ERP, inventory management, etc.) to visualize your field team's impact on other parts of your business.
Not only can you pull data into Repsly via the Advanced Reporting module, you can also send Repsly data to other systems (such as ADP or other payroll systems, HR software, etc.). With Advanced Reporting, Repsly can become the central hub and system of record for all of your field team's data.
7. You get custom account setup and dedicated live support
If you're already using Repsly, you already have great data about your field team. If you're interested in Advanced Reporting, you probably have an idea of the key metrics you'd like to be able to see at a glance. From day one, we'll be there to help you get from point A to point B.
Our data team specializes in turning thousands of data fragments into clear, visual charts you can make sense of on the go. Whether you already know exactly what your dream dashboard looks like or you need help uncovering insights for the first time, we're here to help with custom account set up and dedicated live support — from day one to day one million!
8. You can build your own dashboards (and it's easy)
We'll always be available to help make changes to your Advanced Reporting dashboards when you need them, but we don't want our customers to feel like their data is stuck behind lock and key. Our Advanced Reporting module features a completely self-service drag-and-drop report builder so you can drill down into any KPI with just a few clicks, then save those reports for future reference.
Whether you're working on your own, with an in-house ops team or with our data specialists, we want it to be as easy as possible to get insights from your data!
9. It's available as an add-on to any paid subscription of Repsly
Love what you've heard so far? Advanced Reporting is available as a paid add-on to any Repsly subscription. If you're a current Repsly user, reach out to our customer success team to learn more at customer.success@repsly.com.

If you're not using Repsly yet and would like to learn more about our retail execution software, schedule a time to chat with our team using this link. Look forward to getting to know you!
Frank Brogie
Frank Brogie is the Product Marketing Manager at Repsly. When he's not thinking about how to position and sell Repsly's products, Frank loves to explore Boston by bike and hunt for vintage cars through a camera lens. On weekends you can count on Frank to organize a pickup basketball game or play disc golf. An avid podcast listener, Frank recommends Philosophize This, 99% Invisible, and Radiolab.