If you have a team in the field, you know they offer your brand a huge advantage. Through your team, you can support every one of your accounts with a personal relationship, and can control the way your brand is represented at retail much closer than you would if the team was outsourced. Especially as you scale, your field team becomes a valuable tool as you strive for perfect execution.
As that team grows, however, and their responsibilities broaden, it gets harder and harder to see exactly what they're doing out in the field.
For you to effectively manage the team, you'll likely want to be able to answer questions like: "How many events did the team run last month?" or "How many accounts did they visit today?" But it can be tough to get those details from a dispersed team without micromanaging or adding admin work that slows the team down.
The fix? Transparent field management.
Transparent Field Management
Before I explain what transparent field management is, let me be clear about what it is not: transparent field management does not mean forcing your team to report every bit of useful data back to you in a way that doesn't benefit their workflow.
While emails like the one below can get you the info you might need in the short term, they're an unsustainable way to get useful updates from your team.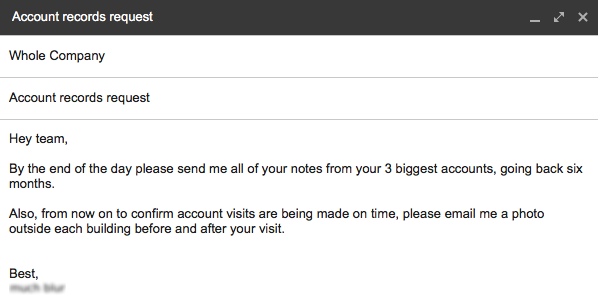 Instead, transparent field management turns one-sided requests like these into processes that benefit both sides of a field team, the managers as well as their reps in the field. When reps support your initiative to get better data because it benefits them as well, you'll get much more consistent buy-in, and therefore data, from your team.
So let's get into it -- what does transparent field management look like for your team? Let's start with activity-first data collection:
Activity-First Data Collection
The best way to get buy-in and consistent data from your team is to make it a part of their existing workflow -- no added admin time or distracting write-ups, just a natural exchange of data while your team operates as usual. It's a win-win.
Here are some tools you can use to make that happen:
Digital Forms
Any team that wants to report on its team's activity in the field should consider using standardized digital forms to collect data, rather than email recaps -- or worse, pen and paper write-ups.
As your reps make notes about their visit in the field, submitting a digital form to the back office is a simple as hitting a button. Just like that, you can see what your team is up to in real-time without adding any time to their day.
Not only do forms help you see the work your team does in the field, but it gives your reps a record of the work they've completed, helping them be better in the field as well. For example, when a rep visits that account again a few months later, they can easily see action items, agreements, and photos from previous visits right within the form.
For example, with the form below reps can track shelf position, pricing, and secondary placements
Cloud-Based Ordering
Brands can take that same activity-first approach to ordering and selling in the field. Cloud-based ordering tools grant managers insight into exactly how much sales their teams are responsible for, all while giving their reps the sales records they need to drive new deals.
Again, cloud-based ordering also gives reps a boost in the field in return for the visibility you need in the office. With orders logged and accessible at their fingertips at every client visit, sales reps can make smarter suggestions and be ready for replenishment even faster.
Photos
If your goal is to see what your reps are doing in the field, there's no better way than having them take photos of the work they're doing. But that can be a big ask if your reps don't see how it benefits them. However, used correctly, photos can be your reps' best asset for closing deals.
Resourceful reps will use photos to show off displays they built at other accounts, or as documentation for compliance issues or out-of-stocks. Once you train your team to use photos as part of the sales process, you can bet they'll start taking them at every account visit.
Then, all you need is a way to see those pictures from the back office. Repsly's photo management features, for example, sync images in real-time and tag them with time and location info for easy lookup and reference - both in the field and in the office.
GPS-activated account data and playbooks
For teams that work in the field, GPS is a powerful tool that drives accountability and honesty. But when it's used to strictly monitor employees' location during the workday, the result is more "big brother" than mutual trust.
Top-performing teams, however, use GPS to empower their reps to work smarter and actually sell more. When that's the baseline, asking your team to check-in on the job is no longer a hurdle, it becomes a natural part of the way they sell.
Here's how you can use location data to empower your team:
Connect GPS Check-Ins to Customer History
In an ideal world, your reps get access to all the data they need to close a sale at the right time, in the right place, without having to thumb through all of their notes. You can use GPS location for that!
Mobile CRM tools can sense when your reps are close to one of their clients and automatically pull up their account details when they arrive on location. From previous orders and stock levels, to events and samples delivered, your reps can get the data they need just when they need it.
On the flip side, you'll get insight about when and where your team is checking in with clients, helping you see what your reps are doing out in the field.
Use GPS to Trigger Account Playbooks
For teams with a complex account management strategy, GPS can even be used to help keep reps on track and efficient at every visit.
Going a step beyond simple account details, mobile CRM tools can also suggest specific action items for reps when they arrive at a client location. Stopping at CVS? Run a compliance check. At Whole Foods? Run a competitive audit. With GPS-triggered tasks, you can suggest the next best action for your team while getting insight into the work they're performing in the field.
No matter what specific info from the field you want to track, prioritizing your reps' productivity is the key to garnering their buy-in, and ultimately getting better insight into the work they're doing in the field.
Frank Brogie
Frank Brogie is the Product Marketing Manager at Repsly. When he's not thinking about how to position and sell Repsly's products, Frank loves to explore Boston by bike and hunt for vintage cars through a camera lens. On weekends you can count on Frank to organize a pickup basketball game or play disc golf. An avid podcast listener, Frank recommends Philosophize This, 99% Invisible, and Radiolab.