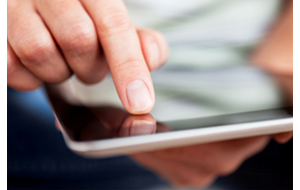 A strong retail merchandising company is quality-driven, agile, and efficient. Field management is especially important in promoting these qualities within the merchandising company, and field managers are often able to harness the skills of a strong team of reps to make these ideals become a reality for their retail merchandising company. Reps are a field marketing manager's eyes, ears, and hands out in the field, and the relationship between managers and reps is crucial to maintaining quality, agility, and efficiency. Effectively leveraging mobility can make this relationship incredibly synergetic. With mobile solutions, field marketing managers have access to what the reps are seeing in real-time, and can control reps in response to what is happening in the market, which can give your retail merchandising company a competitive advantage over the competition.
Equipping reps with mobile technologies will allow you to learn about the competition. With mobile data collection features, such as custom forms and photo documentation, it is easy for reps to survey the competition during their regular store visits. Gathering data about how and where the competition is selling allows field marketing managers to keep their fingers' on the pulse of competitors' price and presence. Leveraging mobility in the field also empowers reps to learn about competitors' strategies and relationships. Over time, reps can gather data indicating how competitors' relationships are changing in different outlets. If competitors are growing shelf space, putting up more displays, or changing their marketing message, your reps will be able to capture these trends using mobile tools such as photo documentation.
Leveraging mobility in the field also allows field marketing managers on the back-end to make sure their products are getting promoted according to plan. Reps armed with mobile data-capturing solutions can provide information to the back office from customer sites in real time. While reps are still on site with a customer, you will be able to identify issues such as whether merchandisers are filling holes and maximizing presentation, if retailers are giving you the display locations you have negotiated, and if your products are being sold at the right prices. Having access to this data in real time will allow you to make the necessary decisions and adjustments while the rep is still on location, so changes may be made as soon as problems arise.
As most mobile devices come standard with GPS capabilities, workforce tracking is possible for a team of reps who are mobile equipped. Using workforce tracking and breadcrumbs can help field marketing managers ensure that they are getting the market coverage that they expect. With a map in the back-end displaying the current and past locations of your reps, it becomes easier than ever to see if reps are evenly distributed in the territory. With real-time location updates and geo-tagged activities, field marketing managers can see if reps are visiting the outlets they should be at the frequency that has been specified, and that they are executing the specific activities they have been instructed to at the proper time and place.
The increased communication, control, and accountability from mobile technology augments productivity, giving your retail merchandising company a competitive edge. For such a clear benefit, it is relatively simple to implement a mobile strategy. All of the above functionality can be accomplished with a mobile solution that gives you flexible forms, photo & signature capturing, easy reporting, and geo-tagging.
Frank Brogie
Frank Brogie is the Product Marketing Manager at Repsly. When he's not thinking about how to position and sell Repsly's products, Frank loves to explore Boston by bike and hunt for vintage cars through a camera lens. On weekends you can count on Frank to organize a pickup basketball game or play disc golf. An avid podcast listener, Frank recommends Philosophize This, 99% Invisible, and Radiolab.