Grocery merchandisers need to step up their game to compete in an increasingly competitive marketplace.
Amid emerging trends, a diversifying industry and changing consumer preferences, it's more critical than ever for brands to make sure their merchandising strategies maximize revenue. But before merchandisers go out and try a bunch of tactics that won't necessarily work, here's how brands can tap into supermarket consumer preferences and take their merchandising strategies above and beyond their competitors.
Health is on consumers' minds
For grocery merchandisers looking to cash in on customers' rapidly evolving preferences, they just need to take a look at the data. What they will find is grocery shoppers consistently rank stores with a wide variety of healthy food options higher than those without them. In fact, 89 percent of consumers ranked fresh produce as more important than competitive pricing or product variety when shopping at a grocery store, CSP Daily News reported.
Additionally, almost one-third of grocery shoppers have a negative impression of stores that do not provide organic or natural products, and nearly 50 percent of customers would consider leaving a store that doesn't provide healthy options.
This trend manifests in many ways, including the decline of soda sales in the U.S. Soft drink consumption fell to a 30-year low in March 2016, according to Fortune magazine. This marks the 11th consecutive year of decline in demand in the soda industry, showcasing how consumer tastes are gravitating away from sugary, high-calorie products, and toward healthier options.
This means that grocery merchandisers need to play up the organic, natural and healthy aspects of their products to show consumers they have what they are looking for. Positioning these types of products front and center in the store will maximize the number of consumers who have a chance to review and hopefully purchase these products. Merchandisers can also set up displays throughout the store that highlight the brand's healthy food offerings, even in aisles that might not sell them. Field representatives should also place their products in aisles where related products are sold, such as setting organic ketchup and hot dog buns next to ketchup and buns that are not organic. That way, customers might be enticed to pick up those items instead of the less healthy alternatives.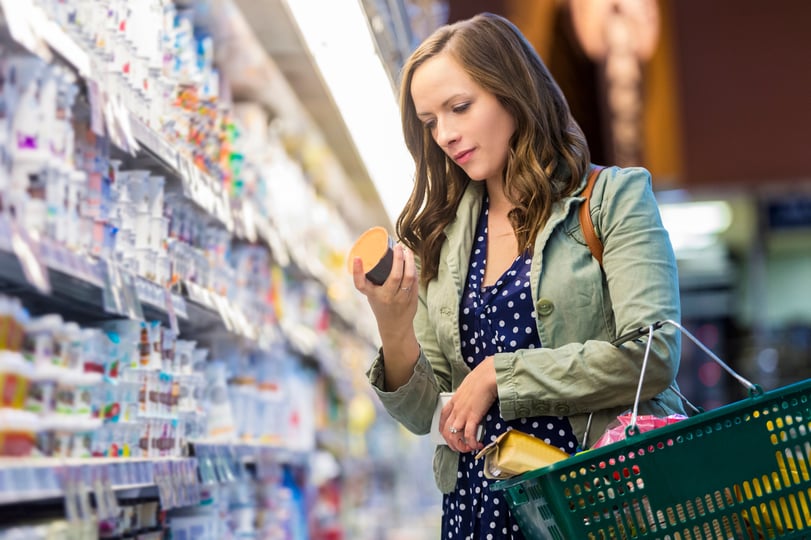 Even grocery stores can't escape the digital craze
An increasing number of shoppers are going online to order their groceries, but this doesn't mean companies should stop paying attention to how they're merchandising.
Online grocery sales will skyrocket to $50 billion annually by 2020, according to The Produce News. But along with this new trend, consumers expect to find the same selection of products online or on mobile apps as they would during their in-store shopping trip.
This means merchandisers need to take extra care to make sure that their online offerings closely mirror those at their brick-and-mortar store. They should place a particular emphasis on having the most in-demand goods available both online and in-store.
To determine which products consumers want the most, retailers should leverage mobile CRM software, which can allow marketing teams to analyze popular products, the frequency with which customers purchase those products, and the quantity of the product purchased at one time. This should give grocery retailers an idea of the products and quantities they need to meet customer demand.
Who rules the merchandising game right now?
Target has been able to successfully expand its grocery store presence by catering to the natural and healthy food trend sweeping the country. The retail store has implemented a series of merchandising initiatives in 25 stores in the Los Angeles area, with superb results.
"We have added thousands of new items," Target Chairman and CEO Brian Cornell said. "We have worked with our vendor partners to make sure we are bringing the right innovation, category by category."
Target's Los Angeles strategy involves placing a heavy emphasis on creating user-friendly spaces for items such as clothing, produce, and coming up with new ways to provide customers samples of products while they shop.
Kroger has also capitalized on the healthy food trend in its grocery stores throughout the country. Natural and organic products made up more than 10 percent of the grocery store chain's second-quarter profits, according to Barron's magazine.
These retailers are having success because they offer a wide variety of products to their consumers while also promoting the products and brands that their customer base is demanding. And although these chains are huge and have a lot of capital to spend on expansion, smaller stores shouldn't be intimidated by the prospect of of revamping their merchandising strategy.
With some proper planning, analysis of customer preferences and a focus on digital merchandising, grocery merchandisers everywhere can compete to bring their customers the products they're craving.
Frank Brogie
Frank Brogie is the Product Marketing Manager at Repsly. When he's not thinking about how to position and sell Repsly's products, Frank loves to explore Boston by bike and hunt for vintage cars through a camera lens. On weekends you can count on Frank to organize a pickup basketball game or play disc golf. An avid podcast listener, Frank recommends Philosophize This, 99% Invisible, and Radiolab.