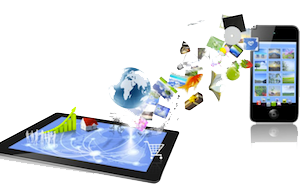 Agile field sales organizations can benefit from equipping their sales reps with mobile technology. As mobile capabilities expand, the agile field rep becomes more powerful, gaining from increased functionality and passing this increased productivity on to his or her retail merchandising company. Let's take a look at 4 mobile technology trends that will boost representatives' productivity when performing field sales activities.
1. While smart phones and tablets have been getting lighter and thinner, their screens are becoming larger. Across the board, screen size and picture quality have been increasing. Larger displays make web-browsing and posting media more user-friendly. Most importantly, however, is that larger screens paired with better cameras make it easier for field reps to conduct on-site photo documentation that is clearer and more detailed without having to sacrifice size or bulk.
2. More and more mobile devices are supporting near field communication (NFC), allowing them to communicate with one another when they are touching or near each other. This technology is becoming more widespread, and, in turn, more practically applicable. NFC payments are on the rise, and will allow field reps to accept payments from clients more easily, especially with the integration of virtual wallet software such as Google Wallet and Passbook. Also, agile field sales reps can quickly share customer data with one another using NFC, improving mobile sales team efficiency and team collaboration.
3. Wireless charging for mobile devices is beginning to pop up, and will surely grow in popularity and prevalence as the year goes on. Without having to plug in and be tethered to a wall or vehicle power source, wireless charging allows for quick and less restricted charging capabilities. If field reps could be charging their devices every time they put them down, in a wider variety of locations, they would be able to not only work without fear of losing a charge, but could more freely use features that usually put a heavy toll on battery life, such as photo documentation or activating a geo-location-based workforce locator.
4. The increase in personal cloud use bodes well for companies looking to become agile field sales organizations, as they can say goodbye to having physical copies of photos, work time clocking, forms or other mediums used for customer data capturing. Keeping this data stored on a personal cloud means that it can be easily accessed anywhere with a mobile device, and just as easily shared with other team members. With the syncing capabilities of smartphones and tablets, an entire history of customer data can be accessed just about anywhere.
Frank Brogie
Frank Brogie is the Product Marketing Manager at Repsly. When he's not thinking about how to position and sell Repsly's products, Frank loves to explore Boston by bike and hunt for vintage cars through a camera lens. On weekends you can count on Frank to organize a pickup basketball game or play disc golf. An avid podcast listener, Frank recommends Philosophize This, 99% Invisible, and Radiolab.