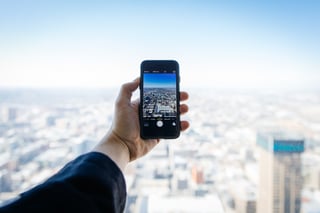 It is now 'free' to take pictures of your products as they exist in retail. Every merchandiser carries a phone with a camera, and good retail merchandising tools make photo documentation super easy. But why bother? What is so special about a photo of a product on the shelf? Here are 3 blockbuster reasons why you MUST gather photos of your product in retail:
Proof of Compliance. You pay dearly for premium shelf space or store position. Your retailers take deductions based on a contract with you to give you that space and position, among other things. If your merchandising team is collecting photos of your product in retail,field marketing managers have direct evidence as to whether retailers are holding up their end of the bargain.

Competitive insights. When you see your product on a shelf using photo documentation,rather than a written report, you can see how it is positioned next to the competition. Do you have the same amount of space? Do they have new packaging? Are they running promotions? Are they pushing a new feature or other aspect of their product to create an advantage? What kind of 'shelf appeal' does your product have compared to others around it? Having a picture of your product in the retail environment can answer these questions, as well as many others that you haven't thought to ask yet.

Field team management. One of your biggest investments is in your retail merchandising field force, whether it is made up of your own employees or third party reps. If they are taking pictures of your product on the shelf before and after it is merchandised, you can have a high degree of confidence that they are actually performing the way you want them to. Further, geo-tags and time/date stamps on those photos give you more evidence that the field is spending the right time on the right activities in the right places. When your merchandisers know that you are collecting this kind of data they are much more likely to follow the plans that field marketing managers lay out for them, for when there is tighter team collaboration and communication, there is improved accountability, one of the keys to a successful agile field sales organization.
Photographic documentation of your product's performance in retail gives you the ability to put your eyes on the quality of your retail execution in an unlimited number of outlets in real time. You can drive retail compliance, conduct competitive research and ensure that your feet on the street are working efficiently… not a bad tool!
Frank Brogie
Frank Brogie is the Product Marketing Manager at Repsly. When he's not thinking about how to position and sell Repsly's products, Frank loves to explore Boston by bike and hunt for vintage cars through a camera lens. On weekends you can count on Frank to organize a pickup basketball game or play disc golf. An avid podcast listener, Frank recommends Philosophize This, 99% Invisible, and Radiolab.