Thanks for joining us for this webinar, where we'll explore The 3 Essential Building Blocks of Every Data-Driven Retail Execution Strategy. We'll take a close look at the role of data in high-performing retail execution teams.
In this webinar, we'll cover:
Why data is key to recouping lost sales from poor retail execution

The three types of data behind intelligent retail execution strategies

And how to use that data to inform smarter in-store activities for your team in the field and drive sales at key accounts.
Let's start with an area of huge investment for so many CPG brands: retail execution. Whether you're a contender fighting for the top spot in your category or an established brand looking to protect your program spend, retail execution is the key to your success in the store.
Featured displays can lift CPG sales by an average of 193% when executed according to plan. Despite the huge upside of these promotions -- not to mention the investment they take from brands -- less than half of all displays are executed as planned.
Let's take closer look by display type. On average, end caps boost sales by 160%, but are executed properly just 47% of the time. Even worse, dump bins are out of compliance a whopping 91% of the time. A well executed bin, on the other hand, boosts sales by more than 230%.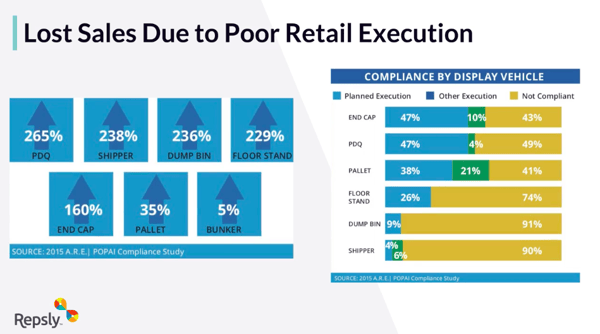 Display compliance is just one piece of the larger picture. To ensure flawless execution, field teams have to work hard to prevent and correct
There's a laundry list of things that can go wrong in the store, all of which cut into a brand's potential retail sales.
At Repsly, we empower CPG teams to overcome this uphill battle, driving high performance retail execution in the field for the biggest possible impact on sales.
The key to having the biggest impact in the field, we've found, is taking a data-driven approach to retail execution.
Before we get to the keys to data-driven retail execution that we've learned over the years, here's a quick intro to who we are at Repsly.
Repsly-- Who We Are
More than 1,000 brands in 80 countries use our retail execution software to get visibility, control, and -- most importantly -- real-time data and analytics about their performance in the field. Repsly empowers those teams to take more proactive, intelligent actions in the field and maximize their impact on store-level sales.
So how does Repsly work? At a high-level, managers first log into the Repsly management console to set up their clients, organize their territories, and most importantly, build forms that will define the work their team does in the field.
When visiting their accounts, reps use the Repsly mobile app to complete work and report data from the field.
Back in the office, managers can get insights from the data, plan their retail execution strategies, and deploy their teams to achieve specific goals in their territories.
We work with more than a thousand high-performing field teams, but here are just a few pieces of great feedback we've gotten so far. From the team at UNREAL Candy: "Repsly's real-time data is a game-changer."
The team at Purity.Organic loves the intuitiveness of our mobile app: "It's really easy to use," they said. "Like when my reps use Instagram. It's very natural. It doesn't feel like a chore."
From the back office out to the field, high-performing teams love using Repsy.
Now on to the keys of data-driven retail execution we've learned working with brands like UNREAL and Purity.Organic over the years.
Data-Driven Retail Execution
The most effective CPG field teams we've seen are building their retail execution strategies around three essential types of data: There's Observational Data, Activity Data, and Sales Data.
By Observational Data, we mean the in-store conditions your reps are observing and reporting from the field. This includes your in-store presence, from stock levels and number of facings to competitive activity and promotions.
Next up is Activity Data. By Activity Data we mean the specific actions your team is taking in the field. How often are they visiting accounts, how well are they able to cover their territory, which actions are they taking most frequently in the store? Activity data paints a picture of what your team is doing to combat noncompliance in their stores.
Finally, Sales Data is simply how much of each product is being sold within a given period at a certain set of stores. At the end of the day, all of your team's retail execution efforts are aimed at increasing sales, making this one of your most important data sources.
Understanding each of these three types of data -- and how they work together -- is critical to driving high performance in the field. Let's take a closer look.
Observational Data
Let's start with Observational Data. Forward-thinking brands understand that to quickly improve sales within a chain or territory, they need a clear picture of what exactly their presence is in each store.
Circling back to the beginning-- there's no way you can know your dump bin promo isn't being executed properly unless you have a system in place for your reps to report those conditions back to you.
Beyond displays, observational data can include any in-store conditions -- new competitor promotions or price changes, display opportunities, changes in your position on the shelf -- anything that affects the way your brand might be moving off the shelf.
Understanding observational data from the field does two things for retail execution teams. Right off the bat, having a way to capture and report observational data in real-time empowers teams to react quicker to conditions in the store and get visibility into how their products are actually being sold. Without this first step, the retail environment is a black box -- there's simply no way to tell whether promotions are being implemented, or why products are selling above or below expectations.
While that's an important first step, the real value comes after a few weeks of consistently prioritizing observational data from the field. Using trend analysis, data-driven field teams will be able to predict which stores successfully execute new displays and promotions, and which require attention from their reps to set up or fix displays. With a more intelligent planning process in place, high-performing teams can better allocate their resources and have a bigger impact on sales-driving activities in their key accounts.
With Repsly, we give brands the tools they need to keep this data structured and organized. Rather than piecing together email write-ups or dropping notes into a spreadsheet, we equip field teams with mobile forms so photos and notes from the field come together in a system that's easy to report on and refer back to.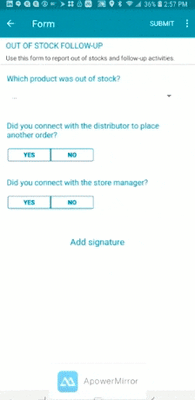 Reps can tag photos by display type and answer questions like "How many facings do we have in the store?" or "What was our main competitor's price?" It just takes a few seconds, right from the store. On the back end, managers get access to all the data their team has logged, organized by store location, territory, time, and more. With Repsly, in-store conditions become qualitative data that's easy to analyze and share.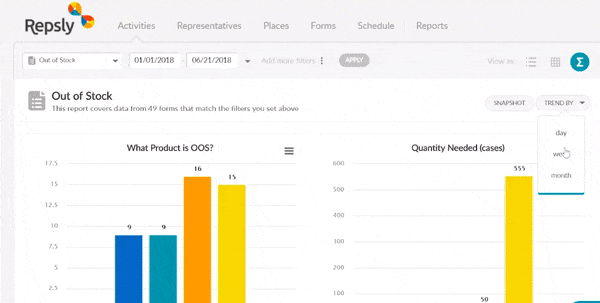 Activity Data
That brings us to the second key data type for high-performance retail execution: Activity Data. Understanding exactly what actions your team takes to drive compliance and sales at the store-level is critical for knowing what programs have the biggest impact on sales.
Activity data can encompass anything your team does while they're visiting a store -- the idea is to get a sense for which activities drive the highest sales lift so you can replicate that success in other accounts. For example, knowing when your reps reorganize the shelf, secure a new facing, drop off promotional materials, or run an event -- and then how those activities affect sales -- will help you prioritize the highest value activities and get more efficient in the field.
Again, understanding activity data has both short-term and long-term benefits for retail execution teams. In the short term, having visibility into what your team is actually doing in each of their accounts opens the door to coaching opportunities you can use to help each rep improve his or her daily productivity. Are they making enough visits during the day, or getting enough coverage of their territory?
As you gather more activity data over time, you'll be able to spot trends that will have a profound impact on the way you deploy your team in the field. Perhaps you're able to connect product demos with a 250% sales boost in grocery stores. Or associate weekly merchandising trips with a 15% lift in c-stores. When you understand exactly which levers your team can pull to affect sales, you'll be better able to justify, forecast, and evaluate programs in the field.
Repsly gives brands unprecedented analysis of the retail execution activities they complete in the field. As sales and merchandising reps check into their accounts and complete audits and merchandising checks, set up promotions -- whatever actions they take in the store -- Repsly automatically logs those activities so there's no extra work for reps.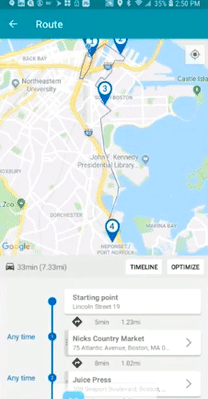 When it comes time to run reports, team managers get a complete picture of all the activities their team has completed in each store, and can compare that activity history with store or chain sales data to estimate the return on every retail execution activity or program they're running. It's that easy!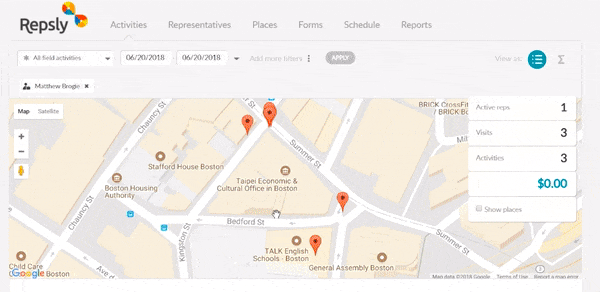 Sales Data
Now finally, the third key data type for high performance retail execution: Sales Data. This is a simple one, and one you're certainly already tracking for your major channels. But alongside observational and activity data, sales data takes on new meaning -- with that context it becomes a measure of every program's true effectiveness.
On its own, having store-level sales data can tell you how well each channel is performing for your brand. Is your new deal at Target or Walmart working out? Have you been able to grow c-store sales month over month this year? At the end of the day, your sales number is often the most important. But beyond whether a channel is working for you or not, sales data on its own doesn't offer much of an indication as to why.
Teams that are able to understand observational and activity data alongside their sales data get a much more complete picture, and are better able to affect the store- and chain- level execution that drives sales.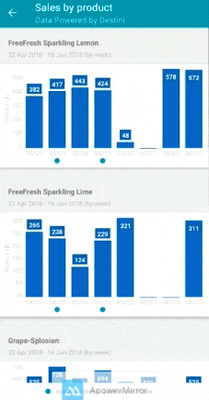 Get Started Today
So to recap, the essential building blocks for a data-driven retail execution strategy are observational data about your presence in the store, activity data about the actions your team takes in the store, and sales data measuring your velocity off the shelf.
Repsly is the only retail execution software that empowers CPG field teams to bring together all three types of data into one system. We give brands everything they need to take a data-driven approach to retail execution, and drive high performance in the field. For more information, contact one of our Repsly specialists!