Photos Per Visit
The total number of photos a rep takes on a typical client visit.
Photos provide more qualitative data from the field. Reporting photo metrics separately from the numeric and text based-data gathered in mobile forms, audits and orders gives an indication of how much an organization values information that comes from outside the analytics derived from traditional data.
Photos give organizations the ability to 'see what their reps see' and are used by field teams in a variety of ways, such as:
- Proof of delivery of a product or service,
- Documentation of pre-existing conditions,
- Details associated with an inspection, or
- Visibility into competitor activities (e.g.; Endcap Displays at retail).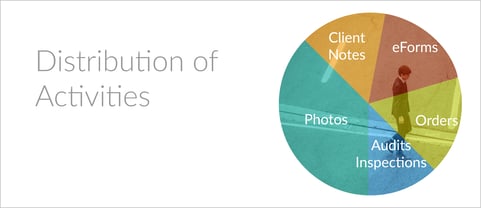 Organizations that make photos part of their field work process can use the frequency of photos in work reports as an indication of how thoroughly the work processes are being followed, or the relative occurrence of issues of a certain priority.
The type of activity that management prescribes can tell a lot about the culture of the organization's mobile workforce management, whether it is influenced by the region of the world, the industry the company is part of, or simply the leadership of the organization itself. Some organizations are quantitatively focused, analyzing numbers and ratios to determine how well the team is performing; while others are more qualitatively focused, looking at the relationships between types of work, levels of execution, and customer feedback to determine how much value the organization is generating.
Additionally, field organizations can prioritize either the task execution metrics, or the observations that these teams make and report back to management. Both are equally valuable, and the focus can swing between extremes on both ends. As an organization develops accountability and discipline, it may shift to more analysis of data related to rep's observations rather than their execution, and if the quality and consistency of that data begins to deteriorate, organizations may shift the emphasis back to execution.
Photos as a form of data collection can be used in both environments, though it is more likely that qualitatively oriented companies rely on them more for gathering market information from the field (e.g.; photos of a competitor's activity) than for driving accountability (e.g.; photos of work that the rep has completed).
The Repsly Mobile CRM Data shows that organizations in Europe differ significantly from the rest of the world in their reliance on Photos. European field reps take only .26 photos per visit, while the rest of the world ranges from .60 photos per visit in Asia Pacific to .74 photos in Latin America.