How Leading Distributors Are Innovating to Build Their Reputation and Business
In this post, we're going to take a close look at how a new class of distributors and brokers are getting better data about their performance on the shelf, and using that insight to build relationships with their brand partners.
Over the years, Repsly has worked closely with national and regional distributors like Crossmark, Core-Mark, Big Geyser, and Novamex, and we've learned a lot from the way they use data from the field to build their business and their reputation.
Most importantly, we've seen today's top distributors sharing data with their brand partners in new ways, giving brands unparalleled visibility into the work distributors are doing to promote them.
In the next 10 minutes, you'll learn how to get clean and consistent data from your team in the field, how to showcase your work at retail in visual reports, and how to share all that information with the brands you represent.
To start out, let's give you a quick introduction to who we are at Repsly. Repsly is a field management software used by more than 1,000 teams in 75 countries around the world. We not only work with distributors and brokers, but hundreds of growing brands who also use our mobile CRM software to manage their teams out in the field. We empower teams to sell more in the store while capturing the photos and point-of-sale details about their products managers need to make smarter decisions about their retail strategy. And over the past few years at Repsly, we've had the pleasure of working hands on with a lot of these teams!
Now let's get to the meat at the center of this webinar --those reports we mentioned earlier.
Stop Struggling With Email Reports
What are the problems with the practices that are currently being used in the market?

Let's look at the typical report we see most distributors and brokers sharing with the brands they represent today.

This is tough to read, cluttered and lacks clarity. Brands can't get a sense of the work you're doing to help promote their products. In addition, reps can't fill this out until they're in the car or even back at the office, leaving a lot of time for smaller details to slip through.
Now let's look at the ways that distributors are innovating here. At Repsly, we've been helping distribution teams set up reports that look more like this: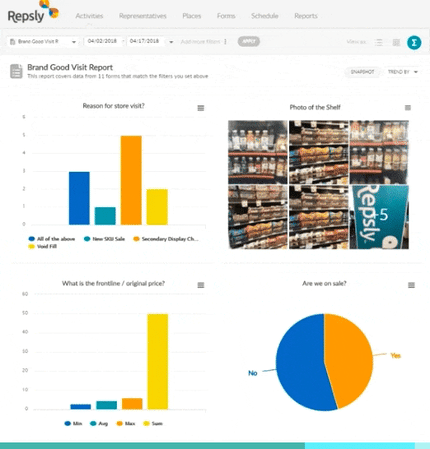 Repsly will allow you to create reports that are easier to read, and add easy to decipher graphs and photos that actually show brands how you are helping them win at the shelve. Brands can see details of facings, price and competitors, and photos of secondary placements in new ways.
With those photos and trends right there and easy to see, brands can feel like they're right there with their product in the store, seeing the work their distributor is doing to promote them.
Collect Smarter Data From the Store
In order to put something like this together, distributors need to get great data from their teams at retail. The best way to get clean, consistent data from your brand ambassadors or sales reps is with a customizable mobile form they can fill out during every store visit.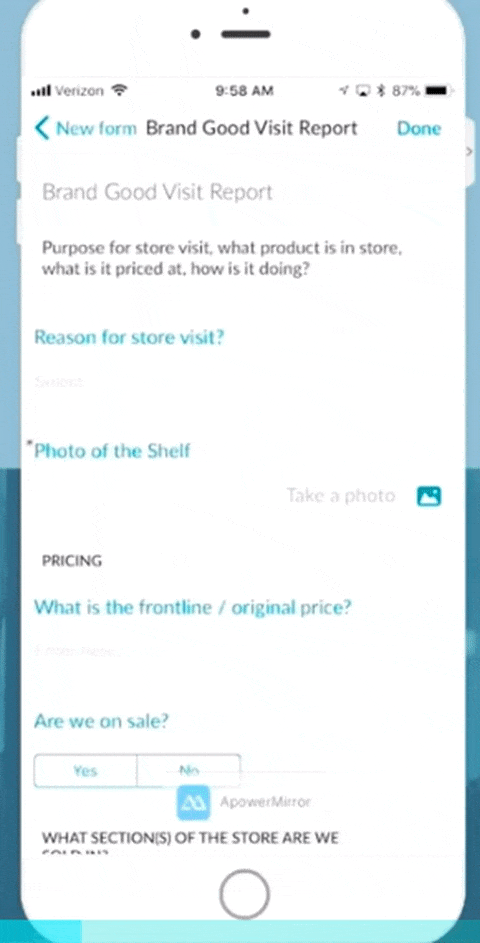 By using a customized form like this one, reps can easily answer questions such as:
What is the reason for the visit?

Are any of our products on sale?

What area of the store are we located in?
All of these can be easily filled out while the reps are on site, as opposed to filling out a cluttered excel spreadsheet in the car or back at the office.
Empower Your Reps for Better Reporting
How do distributors get that form into Repsly so their reps can fill it out on the mobile app?
Repsly is a two-part platform, meaning that managers can design forms and questions from the back office.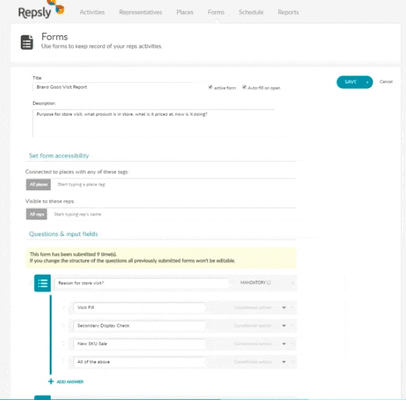 Using the Repsly form builder, you can design as many of these custom forms as you need, for your reps to fill out when making their visits.
Data Reports
Once you've created your form questions and had your reps fill them out on their mobile device, how do you see those nicely organized reports that we've talked so much about?
Repsly will automatically generate reports based on the responses to your form questions, and organize them into helpful graphs, tables, and images.
Once you've collected and viewed all of this data, some distributors may want to easily share it with their clients. You can share these reports directly with clients through an email link, or even give them third-party access. Use this to optimize communication and truly be on the same page as your clients.
Drive Accountability
With the entire team's activity out in the open like this, managers can drive accountability and efficiency. Easily pull reports on individual rep activities and get insights into the performance levels of reps across your entire team.
By using the Activities Feed feature, you can easily see the stops that your reps made, the routes they took, and how long they were at each visit.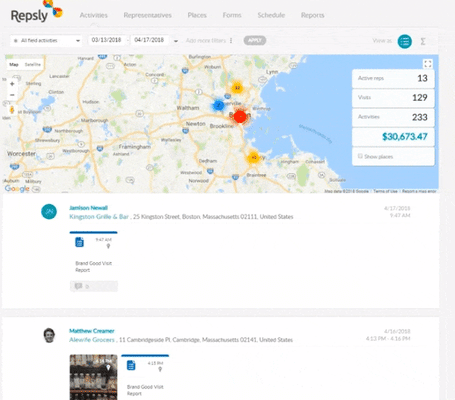 This added accountability allows managers to rest easy knowing everything the reps are doing is documented and allows them to focus on other ways to improve their business.
Get Started
That was a lot of information, but we'll wrap it up for you by touching on the key points about how you can get better data, and use it to build better relationships with your partners. Follow these steps:
create customized forms through the repsly form builder

Have your reps fill out those forms while they are on their visits

See easy to read and visually engaging reports as soon as data is reported

Share these reports with partners and clients to be on the same page

Use the Activities Feed to drive accountability optimize your team's work
We hope to have given you a peek at how you can use your team in the field to become your clients' favorite partner, and most of all, just how easy it can be with a tool like Repsly at your disposal.
If you'd like to see more of anything we showed you today or how it can benefit your unique brand, contact one of our Repsly specialists.