Food and Beverage Field Strategy Perfected
Here we'll take a close look at how food and beverage brands can leverage their field teams to make sure their promotions and merchandising campaigns are being executed properly in all of their accounts.
There's nothing more frustrating for a brand than setting up a sale or promotion or even negotiating for a prime spot on the shelf, and then finding out it's not being executed at the store-level.
That's why we're going to show you how easy it can be to use a tool like Repsly to get instant insight, which lets you sort your accounts to spot merchandising errors in seconds, and deploy your team to fix them before they impact your sales. Plus, we'll show you how to segment out all your stores with compliance issues and create action items for your team to resolve them as quickly as possible.
To start out, let's give you a quick introduction to who we are at Repsly. Repsly is a field management software used by more than 1,000 teams in 75 countries around the world. We not only work with innovative food and beverage brands like Vita Coco, KIND Snacks, Kevita, and popchips; but hundreds of distributors, brokers, and other CPG brands also use our mobile CRM software to manage their teams out in the field.
We empower teams to sell more in the store while capturing the photos and point-of-sale details that managers need to make smarter decisions about their retail strategy.
Reporting Data From the Store
Let's start at the store level. Brands can't even begin to think about merchandising and compliance unless they have an idea of what's actually happening with their products once they're delivered to the store. So how do brands get this kind of visibility?
A brand's merchandising or sales reps are the key to getting insight from the store. But the way they deliver that information back to their managers is super important when it comes to staying organized and taking action. It's a great idea to use mobile forms to collect and submit merchandising data from their accounts.
Form Building
As a manager, you need to see certain pieces of information in order to make decisions and take action regarding your brand. With forms, you can customize exactly what information you want your reps to report, and the exact format that it arrives in. There's many ways that a brand can use forms to identify compliance issues in their stores. Some of these include:
Keeping track of key performance indicators (KPI)

Creating consistency in data reporting

Combining qualitative observations and photos with quantitative data
Here's a great example of a form that a brand might use: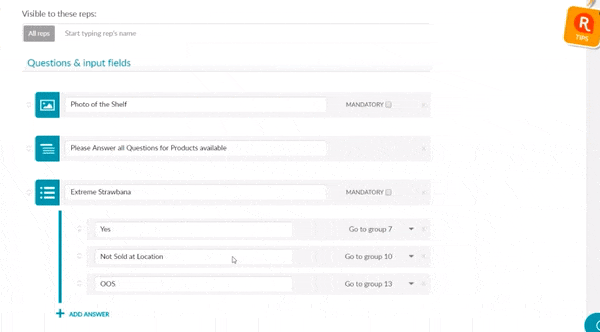 As shown in the example above, it's super easy to identify and record any instances of noncompliance with a mobile form. All of the information is synced in real time, and easy to analyze back at the office. Data recording is consistent across your entire team due to the fact that they will all fill out the same form.
Editing or Adding Forms
The landscape of the market will constantly be changing, so what happens if the team wants to change the KPIs they track, check performance on a new promotion, or change the SKU or display type they're focusing on?
Luckily, it's easy to edit existing forms or create new ones whenever you want. And there's no need to send updated or new forms around to your entire team-- forms instantly update to everyone's mobile app.
Mobile Forms for Reps
Once the forms have been created or updated, it's up to the reps to fill them out while they're on site. Forms are easy for reps to work with, and provide the benefit of recording all the necessary information in just a few clicks. Compared to filling out a spreadsheet or typing an email report after the visit is over, mobile forms bring in much clearer and more consistent data.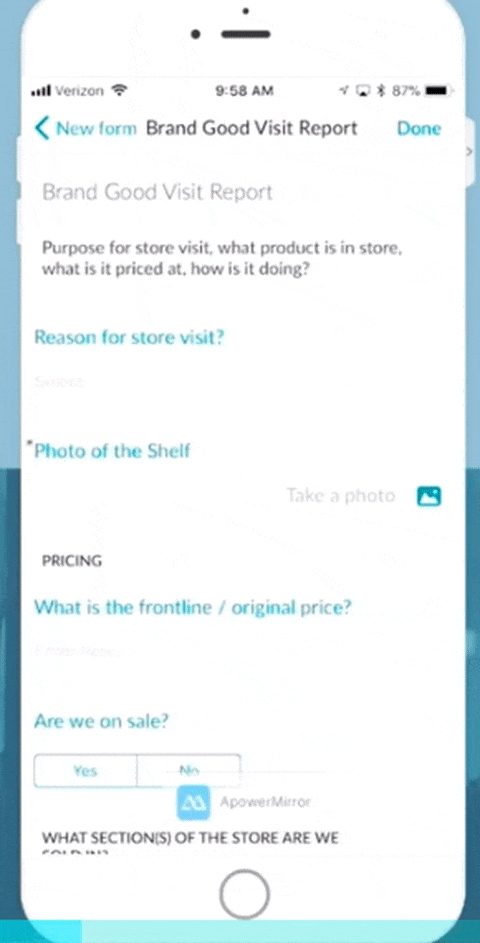 Collaborating in Real Time
So your reps have gotten all this data back about the way a brand's SKUs are merchandised in the store. What's the next step for brands? What can they do when they spot an issue?
Forms can be tagged with alerts, depending on the responses to different questions.
For example, say there's a compliance issue at one of your retail accounts. You can design the form to automatically send you an email alert whenever a form response indicates that something needs your attention.
Taking this a step further, you can then communicate with your reps in the field directly through the app. No need to send an email or a text and try to communicate across different mediums-- everything you need is all located in the same place.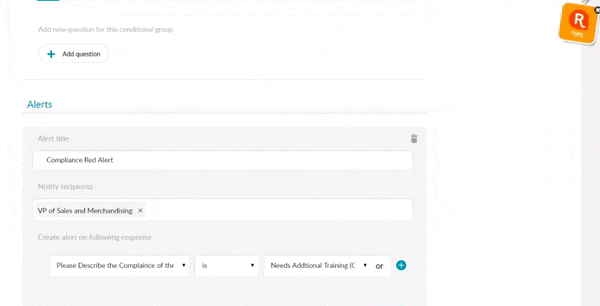 This allows you to fix problems during the store visit, so that any issues are cleared up before they can impact sales.
There's a lot of things that brands can catch during a store visit, such as:
Coupons or displays that are out of place

Missing or misplaced secondary displays

Products placed on the wrong area of the shelf
All of these can be created as mobile form questions that update and relay back to the office in real time.
Finding the Data Afterwards
What if the managers aren't there to take action on these kinds of issues right away, or if their team isn't built to detect and solve errors like this in a single visit?
With all the form data in the Repsly system, brands can quickly sort their account list to see the stores with compliance issues. If your team can't address problems right away, make it easier to find any stores with compliance issues whenever you're ready.
Repsly forms can be sorted by any KPI you want, making the organization and use of all your data that much easier!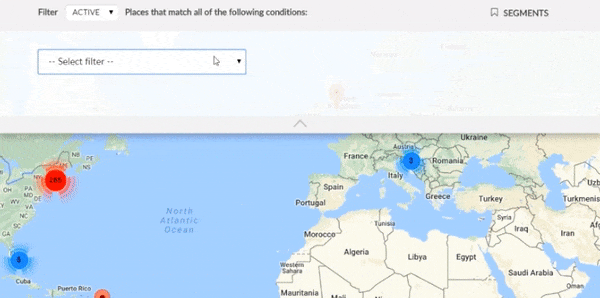 With this feature, you can slice and dice your data in ways that make sense for your brand. Maybe you only want to see areas where compliance issues are impacting your sales so that you can quickly fix them, or maybe you want to see the locations where your product performs the best. Either way, it's easy to do using forms.
Get Started
Using mobile forms makes identifying, reporting, and fixing compliance issues more efficient and effective than ever before.
Use the form builder to track KPIs and other important information consistently and clearly. Add or edit forms whenever you want or whenever the changing landscape requires.
Have your reps fill out forms while they are on site, and have everything relayed back to the office as soon as it is recorded.
Last, use alerts to recognize compliance issues while your reps are still in the store, or use segments to organize your data to address when you're ready.
We hope to have given you a peek at how you can use your team in the field to find and fix compliance issues, and most of all, just how easy it can be with a tool like Repsly at your disposal.
If you'd like to learn more about how these tools and strategies can benefit your unique brand, contact one of our Repsly specialists!