How Equipping Reps With POS Data Empowers Brands to Make Smarter Store Visits
Here we'll talk with you about how you can leverage store level data within your field teams to make smarter store visits and grow your brand! At Repsly, we recognize the power of store-level data, and while we have been helping brands gather and leverage data in the field for quite some time, we know how important SKU level sales data is in particular. To that end, we've partnered with Destini, the #1 store level data aggregator, to equip brand reps with the store level, point of sale data they need to drive smarter store visits. We are very excited about this relationship with Destini! To start, we'll tell you a bit about both companies.
Store-Level Data From 100,000+ Retail Locations
Since its founding in 2012, Destini now works with over 1000 brands and has become the #1 Product Locator and Store Level Data aggregator across the U.S and Canada.
They've been fixated on solving new problems for brands leveraging store level data; from connecting to consumers to local retailers where products can be purchased, to recently launching Destini Signals, a new store level intelligence reporting solution.
Today, Destini aggregates data from various data providers including SPINS and Nielsen to centralize coverage in one solution which currently represents over 100,000 locations across the US and 6500 locations within Canada.
Who Is Repsly?
Repsly provides an all-in-one retail execution tool that enables brands to scale and grow. Repsly streamlines field operations, allowing reps to effectively manage their time and easily collect and report observations from the field. More importantly, Repsly empowers field teams with the data they need to drive sales by executing smarter in the store.
Here's a quick overview of how we do that:
Team managers get access to a web portal where they manage their stores, territories, team members, electronic forms and more.
Reps in the field use the Repsly mobile app to access account histories, complete in-store activities, and track their effect on store-level sales.
Team managers and other stakeholders can view team activities in real-time. Using data from the field, they can identify and take action on opportunities for growth, and track progress toward those goals.
Why have we decided to partner together?
Repsly and Destini are now partnering to leverage Destini's centralized store level data platform by putting it into field rep's hands out in the field. From negotiating for better placements to proving value to new accounts, Destini's store level data helps your reps make a bigger impact with every store visit. Together, Repsly and Destini are empowering brands to make smarter store visits and start data-driven conversations with retailers.
How it Works
Let's take a look at how all of this works, and how the integration with Destini makes Repsly an even more powerful retail execution tool!
Repsly helps brands manage retail execution at all levels.
At the store level, Repsly is at the core, a Mobile First CRM tool that your reps use to more efficiently manage their work and activities, and gives them all of the information they need to be effective when in-store. Repsly is also a powerful communication tool that helps reps stay connected to each other, and to management.
Now with Destini, Repsly also gives your reps detailed Point Of Sale data to enable data driven conversations with retail managers.
At the territory level, Repsly empowers managers to optimize how their territories are covered and managed, and make data driven decisions that enable them to take specific, informed actions to drive better performance in the field.
At the Brand level, Repsly gives you real time visibility across you entire retail presence. Giving you easy and flexible access to all of your field data, along with snapshot and trendline reports, Repsly helps you identify and execute against opportunities for growth.
Store-Level Execution
Let's zoom in to the store level. Your reps in the field are charged with connecting with managers and buyers at retail to maximize the sales opportunity in every store.
Repsly is a mobile first productivity and store-level intelligence tool that helps them achieve exactly that.
Let's take a look at Repsly and Destini working together.
When a rep logs into Repsly, the first thing they see as a scrollable history of all the activity that has happened in their territory, including work they have done and that their teammates have done. They can easily tap in to see all of the details of these visits.
Typically, once a rep has started their day, they will use the Repsly Schedule to plan their day.
Let's say you have four visits on your calendar for today that were scheduled either by you or by your manager.
First, they would have Repsly optimize the route so they can see the most efficient way to make all of these visits.
When you open the store in Repsly, you immediately have access to a lot of valuable information: You can see a history of every visit that has been done there, whether you did it or someone else on the team did.
You can see the schedule of visits for this store, contact details, and any other data that you decide is important to share with your reps about this account
Now with Destini integration, you can see detailed Point of Sale Sale data for every one of your products sold in this store. The green dots show you when you made a visit to the store so you can relate my activities with the impact they may have on sales.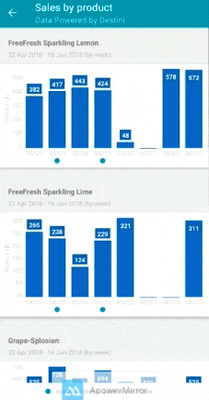 This data gives you the ability to see things like when a product has gone out of stock-- even if you weren't in the store to see it-- and what the impact of promotions has been. It empowers you to have more effective conversations with the store manager. For example, you can see below that Sparkling Lemon went out of stock after your last visit to the store, so you can make a plan to try to sell in a secondary display, or cut in another facing of Sparkling Lemon in order to get more inventory into the store.
Next, you would fill out an Out of Stock Follow Up form to let your manager know what was out of stock, and what you were able to do about it. The form prompts you through the important pieces of information: What was out of stock; whether you contacted the distributor; if you were able to talk to the store manager. Notice that the questions change based on answers you have given. These are intelligent forms.
Finally, after you tell Repsly that you were able to get a new facing cut in, it prompts you to take a picture of the shelf.
These forms are completely customizable by you-- you can make updates in minutes and have them in your reps' hands immediately.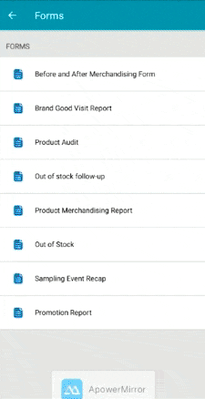 You can sign the form and submit it; which makes it instantly available to your manager.
When you check out, Repsly indicates that this visit has been done, and you can move on to the next store.
Territory-Level Coverage
Let's see how Repsly helps you manage retail execution at the territory level.
Your objective is to make sure that all of your accounts have the right amount of coverage and that your retail execution standards are being met everywhere.
With Repsly, you get consistent, real-time data that gives you the insights you need to take the right actions in the field.
Now we'll switch over to the Repsly Management Console. This is the first screen a manager sees when they log into Repsly. They see a map view of all the activity that their reps have completed, as well as a feed of the details of every visit, much like a facebook or twitter feed. The interface is really intuitive!
Managers can set filters to zoom in on any slice of the data that they would like to see, and they can communicate with reps about any of the activities that they've worked on.
Let's check out the visit your rep just made. You can see from the out-of-stock follow up form he submitted that we had run out of inventory of our Sparkling Lemon flavor at this store. Since that's one of your most popular flavors, and you've seen a string of out of stocks lately, you'd like to deploy my team to get ahead of that issue.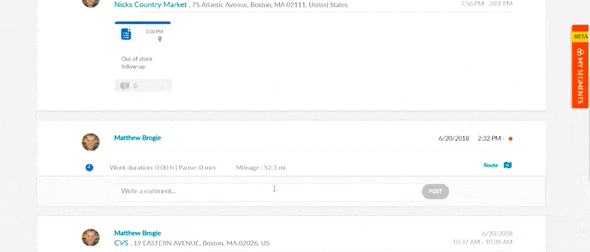 Because Repsly gives you all the data about every store visit at your fingertips, you can drill down and get the insights you need to take the right actions to solve problems like this. You can do this with Repsly's My Segments tool.
When you open the My Segments tool, you see a list of all your customers, and pins on the map where all of those customers are located.
Because Sparkling Lemon has been out of stock so much lately, you may want to get ahead of the problem. You can send reps to revisit stores where out of stocks were reported, and the rep didn't get a dump bin sold in.
Set your filters to see only stores where Sparkling Lemon was reported as out of stock, and you weren't able to get a dump bin placed.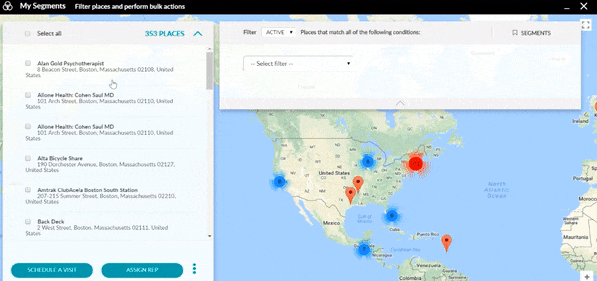 You can then schedule a visit at all of these stores that match the filters at once, and direct your reps to sell in a dump bin.
Repsly knows who is assigned to cover each store and will put the visit on the appropriate schedules. If it makes sense, you can add additional reps to any visit.
Suppose you want your reps to get to all of these stores in the next week, so you set a due date. Then, you'll write a quick note so the reps understand the purpose of this visit. You'll have them complete a Dump Bin Promo form when they're at the visit so you know if it was successful.
As soon as you hit finish, the visits will be put on your reps' calendars, and they can go solve the out of stock problem.
Brand-Level Consistency & Reporting
We've seen how Repsly can drive performance at the store and territory level, now let's look at how Repsly helps you drive performance at the brand level.
You want to be able to measure performance across all of your sales regions, and review how effective your retail execution is. With Repsly, you get easy access to real time data from automated reports and custom dashboards
Back in the Repsly Manager's Console, click on the Reports tab so you can see how Repsly helps you be data-driven with the Management Reporting Layer.
This is where you can get:
Your dashboards

Summary activity reports

Automated reports based on the forms you fill out

Pre-built special purpose reports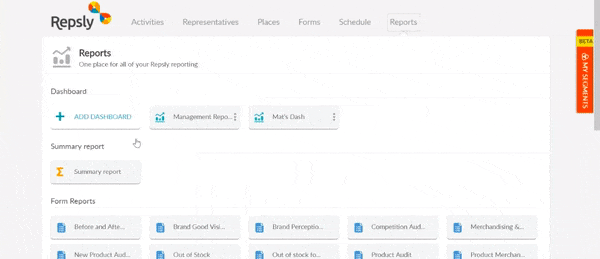 Repsly's management reporting is powerful because it gives you quick and easy access to all the data that is generated in the field, and lets you customize what you see on your personal dashboard. You can even have these dashboards sent to your inbox on a regular schedule to make it even easier to keep on top of your field execution!
Overall, equipping your field team with POS data and giving them the tools they need to take a data-driven approach to retail execution helps turn average accounts into key sales channels. At scale, that leads to higher-performing territories and opens the door for brands to take a proactive, data-driven approach to retail execution.
If you'd like to get a more in depth, one on one demonstration of what Repsly can do for you, just go to www.repsly.com where you can schedule an appointment with one of our customer success reps.
< >