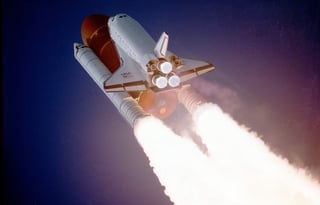 Over the past two years, Repsly has been constantly growing and improving. We poured that creative energy into a more enhanced, yet agile and lightweight mobile app - Repsly Mobile CRM. It wasn't long before we came to the conclusion that we had to make sure that all our users use and benefit from much improved new app. That realization led to a logical decision: to part ways with the 'old' app, despite it still being used by a majority of our users. We had a plan - Mission: User Migration was a go!
One App to Rule Them All
So what's so special about this new app? Repsly Mobile CRM is a natural fit for fast-moving, agile field teams ready to fully embrace the power of social networks and chat apps, whether they're part of a small startup or a large enterprise. Our focal point has always been field team management, productivity, and field visibility.
To further develop these values, we first made improvements to the web app - and the feedback was fantastic. With that in mind, we committed to rethinking our mobile app in a similarly significant way, eventually enhancing features ranging from planning and scheduling to data collection via forms and photos, as well as purchase ordering and auditing.
Following our ever-expanding backlog, we invested significant resources over a relatively short period of time into improvements of these management and collaboration capabilities. This ultimately materialized into Repsly Mobile CRM, which coexisted with the original mobile app as a standalone, full-fledged coaching and field activity management tool. Our motto has always been "See what your reps see", and with the new Repsly app, we took that vision to a new level.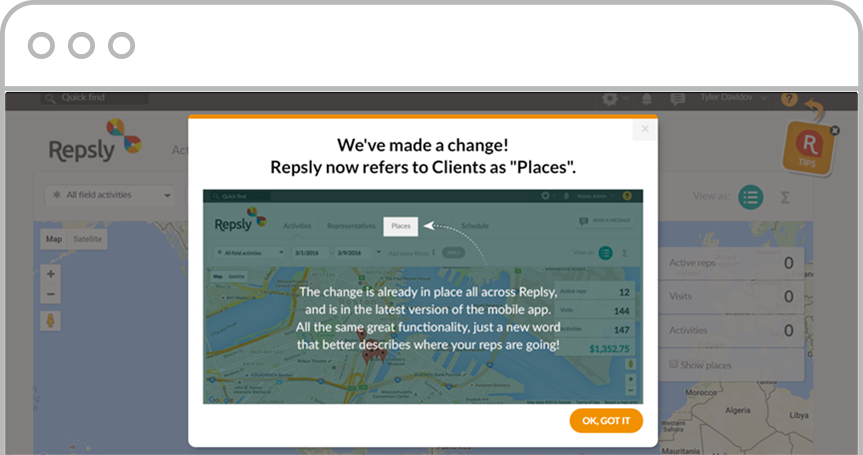 Having shared this more powerful and intuitive platform for field operations with our customers, we then had to start convincing the ⅔ of our customers who still used the old system that migrating to the new mobile platform would absolutely pay off!
At the same time, introducing any significant change requires accommodation time from the current users. Because Repsly is designed for super-fast customer facing interactions, any significant change had the potential to largley impact our current user's experience and distract them from doing their jobs, while they're facing their customers.
Still, our usability tests had proven that new users preferred the new app by leaps and bounds. There was no doubt that we had to commit to helping our entire user base migrate from one system to the other.
The Plan
Once we had clearly laid out benefits of the switch to the new platform, it was time to come up with a migration plan. One of our top priorities was to ensure a transition period for current users of the old system, so they'd have some time to try the new app and accommodate to the changes before we discontinued the old app.
In this transition period we renamed the current app to Repsly Classic, and published the new version as Repsly Mobile CRM.
After that accommodation period had passed, the time had come to remove the "old" Repsly, and go all-in with the new app. At this stage, migrating to Repsly Mobile CRM would no longer be a choice, but would be a necessity for our users. To let everyone using the app know this change was coming, we set a countdown clock in the app, ticking down the two months until we would completely pull the plug on Repsly Classic.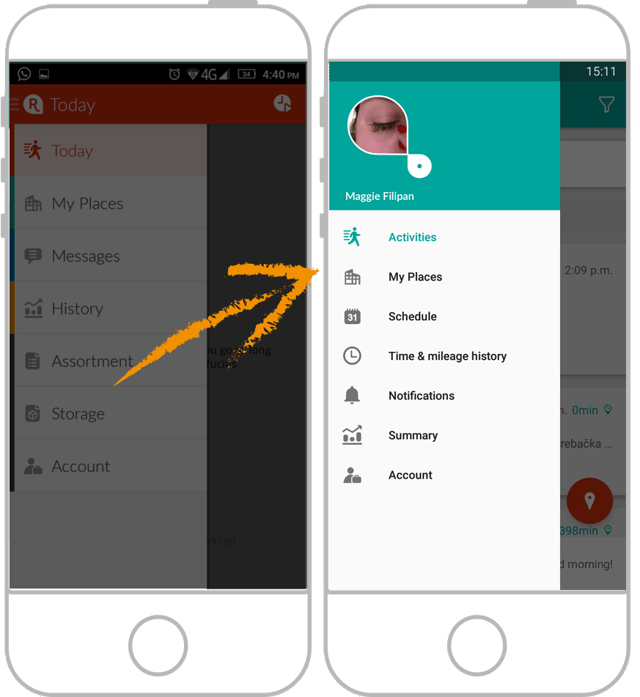 This meant we dedicated two months window to make sure the migration would go super-smoothly, from all-channels support all the way to the actual discontinuation at the end of February. The checklist was narrowed down to:
Prepare, publish and distribute to customers clear and straightforward instructions

Set our customers expectations to make them be in control

Asses the risk of churn, quantify it clearly, and add tracking tools

Track Weekly Active Users (WAU) and use it as risk index

Track remaining Monthly Recurring Revenue (MRR) of risky users

Track the migration trends and adjust communication accordingly

Get into direct communication with large enterprises and help them migrate their users
To start the process, the product marketing team posted a blog post clearly explaining the why's and what's of the migration process, including a PDF guide with step-by-step instructions managers could use to train their reps on the new app. Customer success team had clear instructions and FAQ covered. We also introduced deep linking from the old app into the new one, so that our "road warriors" would have a no-friction transition.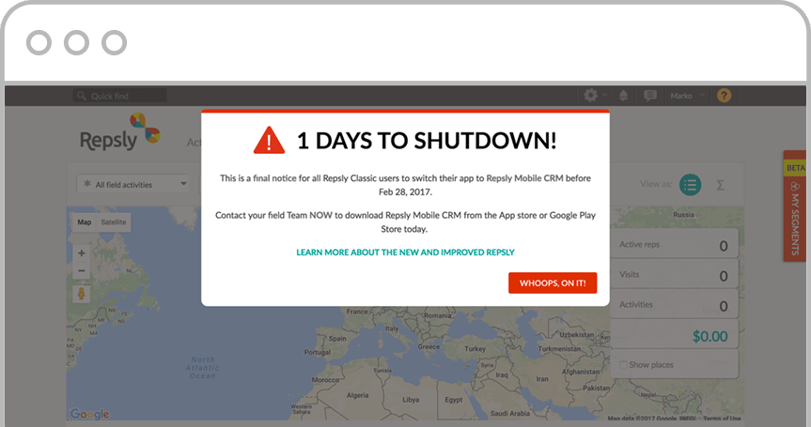 Another important part of the migration campaign was informing account owners (back-office managers) that their role in getting their reps to switch apps is crucial. On a weekly basis we'd setup a mailing reminder to managers about their representatives that were still using the old app, with a CTA that would bring managers to a prepopulated message they could send to their teams via the web app.
It was also crucial for us at Repsly to keep track on these campaigns while continuing with our daily product development efforts, so we relied on Slack and Google Docs to collaborate across remote teams and stay on the same page.
All Action, no Cuts
As the migration was progressing, we kept getting great feedback from our users, indicating we were on track to achieve our goal. Users were adopting the new mobile app with ease, even though we weren't easy on them with our communication tools 'firing' on a tight schedule.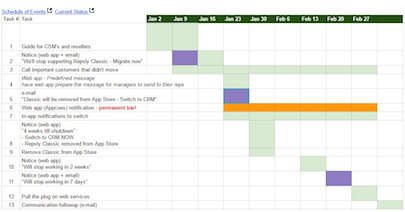 During this period, larger teams shared their transition plans with us, while for smaller users, migration trends reflected seasonality - depending on their schedules and the urgency levels of our messaging.
A slight tweak or two with the schedule of our e-mail or in-app communication did the trick. Mid-campaign, open rates averaged at 49% and by the time we were ready to discontinue the old app, there were only a handful of users who hadn't yet migrated.
The End Is the (New) Beginning
In the end, we had no measurable churn. Seasonal users bounced back a little after the discontinuation date, and by the end of March everyone was back "in the house."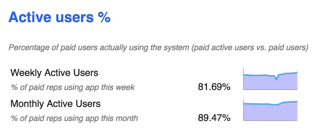 Our WAU and MAU metrics were up 10% overall, indicating more stickiness and more word-of-mouth trial recommendations. Our trial to purchase conversion increased by 20% with the new app, and upsell was up 25% compared to the previous period.
To conclude, every change is a challenge. It's not only about your magnificent new venue, you have to keep in mind the access roads and traffic signals that help people get there. So don't forget:
Communicate clearly, set proper expectations, and track your progress

Monitor the effects of your communication, make sure your messages are being received and read

T

rack numbers, pay special attention to engagement, conversion rates and churn.
Marko Linke
Marko Linke is co-founder and CTO of Repsly. He has over 15 years of experience in software engineering and business intelligence. Marko has successfully developed and implemented numerous business related systems, primarily ERP and BI systems, SFA solutions into computer systems.