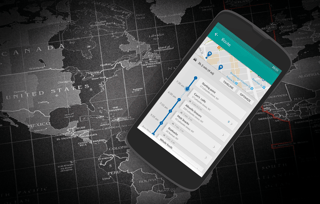 Repsly has redesigned and improved existing mapping features to further enhance your team's daily productivity. With Time and Mileage Tracking you can gain a quick overview of your representative's activities, while he can have the app optimize his route on the go!
Get a fresh view!
In the web app's interface, we've merged previous Rep's Location and Working Time features under the new, Time&Mileage Tracking feature that remains inside the All Activities dropdown menu on the main page.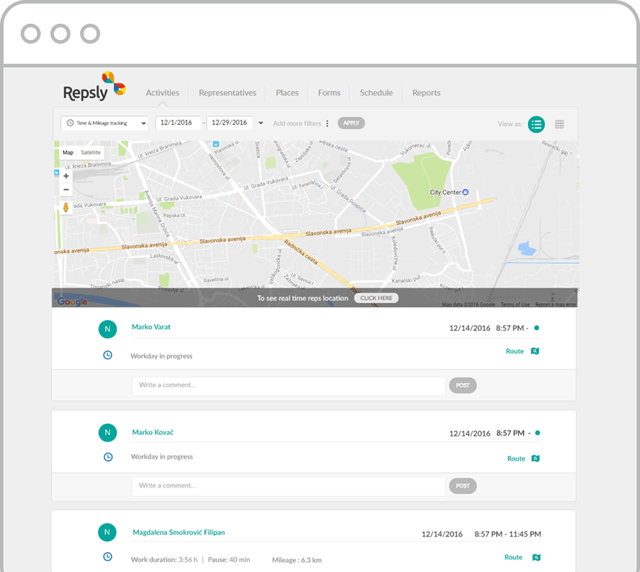 By choosing this filter criteria, managers can now:
track individual rep'

s time spent on an ongoing workday, including use of the Pause Day functionality

track total mileage in a day (and between check-ins)

comment on activities
From the list view, a manager can easily enter workday reports by switching to a grid view. This, previously known as a Working time filter offers tabular time and mileage data ready for export with one simple click.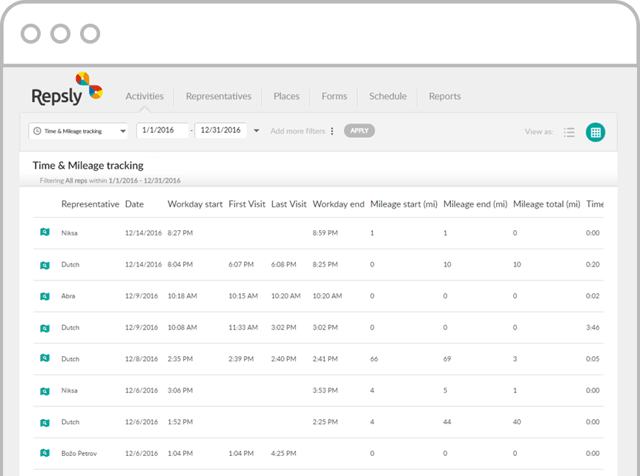 By clicking the Route icon, managers can get a detailed overview of the rep's route taken between locations, all of his check-ins and breaks during the day.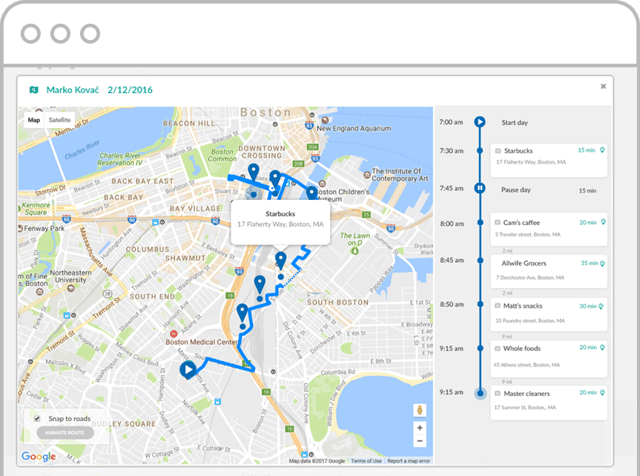 Optimize on the go!
This view corresponds to the Route Optimization feature* available in the Repsly Mobile CRM app (*for Android devices only). Along with starting their day to track mileage, reps can now choose to arrange their visits on the go in a way that either follows their schedule (Timeline button) or takes mileage into account (Optimize button).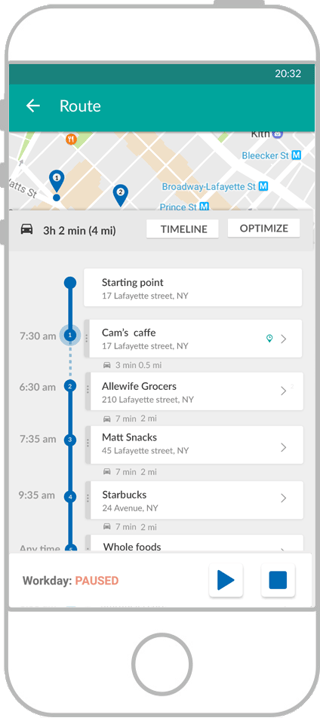 Should a manager want to add a visit to the rep's schedule during an ongoing route, a rep will immediately receive a schedule alert and this visit will be added as a separate item on top of the route, marked as NEW.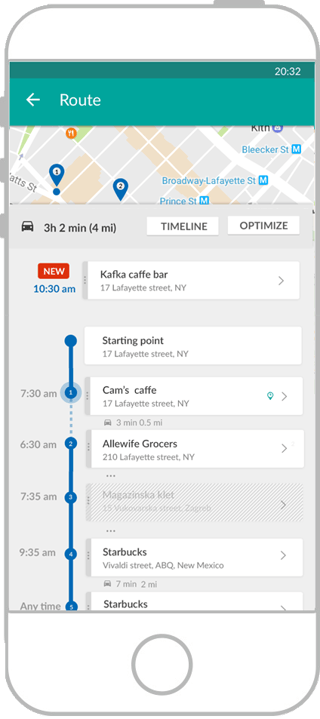 The rep then simply taps on the Optimize button to automatically add all new scheduled visits to the
route.
Visits that have been scheduled with unspecified time are inserted at the end of the chronologically listed route and can only be optimized for distance.
In the event of removing a visit from the Schedule, the Place will remain in the route itinerary but will appear grayed out and will be removed once Optimize button has been tapped again.
When the scheduled visit's been confirmed with a check-in to a Place, it will no longer be listed on the Optimize screen, but will remain on the Timeline for a daily schedule overview.
Iva Rumora
Iva Rumora is a Product Marketing Specialist at Repsly. She is an experienced content editor and project coordinator with a strong interest in visual communications, user/customer experience and content strategy.