At Repsly we're constantly looking for ways to help brands get closer to their goals, their accounts, their employees, and their products out in the field. While working alongside the thousands of brands that use Repsly every day, we've learned that a key to success is connecting everyone in the field with the data and best practices they need to win their day -- when they need it. We've seen that a manager who can share the "next best move" with their teammates is able to move quickly and take advantage of every opportunity, no matter how big their team or territory.
With this aim of connectivity and standardization in mind, we've built one of the most exciting improvements to Repsly to date -- Schedule 2.0. Come along as we show you what's new!

Introducing: Schedule 2.0
With Repsly's Schedule 2.0, it's easy to give your team clear guidance on what to do next, taking the guesswork out of your reps' daily workflow. You can assign specific tasks for your reps, and define a timeframe in which that work should be completed.

In the field, your reps can see all of these assignments with just a quick glance at the Repsly app. We've even redesigned the back-office Schedule interface so you can easily track every action required for a visit to be considered "complete," and even get alerts when scheduled visits are completed or missed.

Let's dive into the details:
Introducing: Tasks!
For the first time ever, you can create and assign tasks for your reps with Schedule 2.0. All of the activities you've come to know and love (Notes, Photos, Forms, Orders, Retail Audits), can now be assigned for reps to complete during a given visit.
Simply select an activity from the dropdown list on the New Visit pop-up, and you can assign it as a Task in the field on the right side of the page. In addition to any assigned tasks, a rep can also submit any other set of activities during his or her visit the same way they normally would have before the update.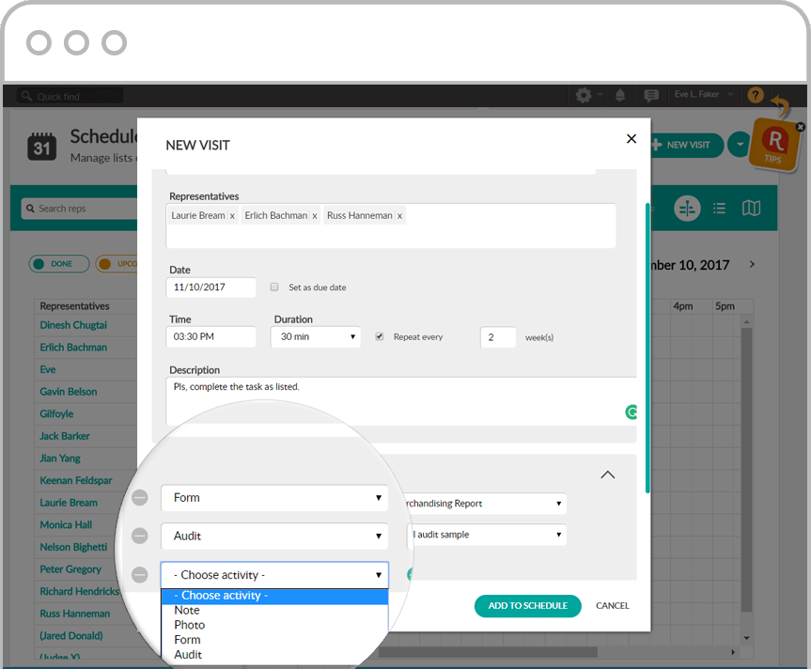 For teams looking for even more control, you can set any Task as mandatory for your reps in the Settings tab. Setting a Task as mandatory requires a rep to complete that Task before they are able to check out of their visit.

Note: Making a Task mandatory will require your reps to submit all tasked activities before they are able to check out from a visit. If you have multiple visits scheduled for one Place, your rep can simply choose which type of Visit they are performing upon check-in to see the proper list of mandatory Tasks for their Visit.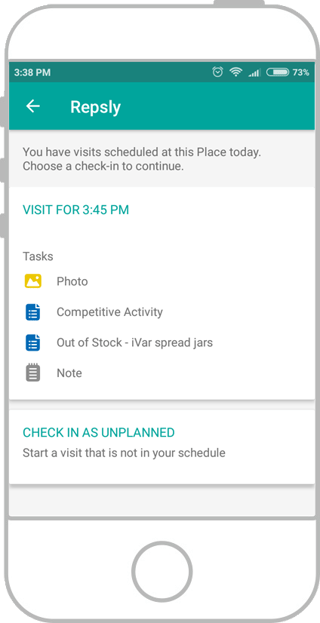 Introducing: Conditional alerts!

Making Scheduling 2.0 even more powerful is the introduction of an all-new conditional alert feature for back-office managers. Alerts can be triggered when any scheduled Visit is done, late, or missed, so you can get a sense for how your team is performing with an email sent directly to your inbox.

IMPORTANT NOTE: To successfully use the new Schedule, all Repsly Mobile CRM users must update to the latest version: 4.5.02 Android and 4.5.02 iOS.
Want to learn more? Check your inbox next week for a special Schedule 2.0 webinar invite!
Iva Rumora
Iva Rumora is a Product Marketing Specialist at Repsly. She is an experienced content editor and project coordinator with a strong interest in visual communications, user/customer experience and content strategy.