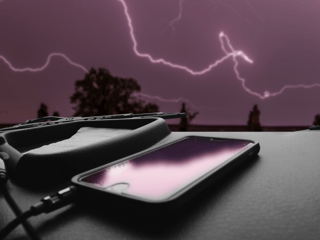 Whether you forgot to charge your phone the night before or you've been using a phone that is more than a few years old - we've all experienced the pain of running on low phone battery. So for all of you reps out there who may time to time experience battery drain, we've prepared a checklist of top 5 battery saving practices while using Repsly.
How you use it is how you lose it!
An average smart phone battery lasts for up to 8 hours and 27 minutes but depending on manufacturer, battery type, cell type, you may experience shorter battery life. Our development team is dedicated to designing the Repsly Mobile CRM app according to battery life recommendations, but we can only go so far. The rest is highly dependent on the user's mobile phone settings and general usage routine.
Factors that affect battery life are mostly attributed to background processes (i.e. apps that work even when you're not actively using them), screen brightness, vibration alerts and location (GPS) services.
For advanced users who utilize daily GPS tracking and frequently switch between business apps, it's essential to start the day fully charged and to practice some common battery saving methods. If you are on the road, car chargers and power banks are your best friends.
Top 5 battery saving tips:
Screen brightness & wallpaper color – manually lower brightness and

set background wallpaper to black if you're on AMOLED screen

Background apps – check Settings and remove/stop all unnecessary apps and disable background app refresh (iOS)
Sounds and notifications – disable 'Vibrate' for phone calls and touch sounds
Location services – If you disable GPS, you will not

be able to use mapping features or track mileage on Repsly but in return save considerable energy

Data connection – if your work does not require constant connection to the internet, it's recommended to work in offline mode and occasionally sync data (supported by Repsly)

Top 5 battery saving tricks:
Stop with the regular 'cleanup' of active apps in the multitasking bar (iOS) - it actually takes away battery juice! Your smart phone knows when to initiate a cleanup if additional RAM is needed.
Enable Airplane mode in areas of low reception - if you're working in the area with 'one bar' reception for long periods, the best way to save battery is to turn on Airplane mode as some devices tend to push more power to the antenna to maintain signal. Also, you can still enable WiFi on Airplane mode!
Enable Battery saving mode - this may seem like last resort and it might limit location services, but it can give you up to 30% more battery life!
Restart your mobile phone after you go through a larger app update cycle, it could save you a day!
Lastly, be mindful of good charging practices to keep your battery healthy. Don't leave your phone on the charger once it's fully charged, recharge in smaller intervals throughout the day and remove cases that heat up the battery while charging!
Iva Rumora
Iva Rumora is a Product Marketing Specialist at Repsly. She is an experienced content editor and project coordinator with a strong interest in visual communications, user/customer experience and content strategy.