Material Costs
Paper Forms
Material costs can be broken down into two categories: the price of the forms and the price of circulating them. So how does paper rank in those two areas? The average office worker in the United States uses about 10,000 sheets of paper per year (InformIT). Given the average size and cost of a case of paper, that worker costs his company $80 per year in physical pages. If your small business has 15 reps, you are paying $1,200 per year for paper alone.

Once those papers are paid for, back-office managers must print the appropriate information on them for field reps. Estimates show the current cost of one printed page as a little over three cents. Let's say your business of 15 reps is conducting 100 jobs a week (5 jobs per rep per day) and each of those jobs require five printed pages. You would then be printing 26,000 pages per year. This modestly estimates a printing cost of $780 per year. Though this doesn't seem like a big number, the time involved in filing, analyzing, and tracking these papers becomes a serious burden, which we will see in the Time Cost portion of this analysis.
Mobile Forms
You're thinking, "Wait, aren't I getting rid of materials all together with mobile forms?" Well, yes and no. Paper goes out the window, but you still need a vehicle for your mobile field report. Namely, a smartphone or tablet. The discussion on the material cost of mobile forms must begin with BYOD vs. COPE. These represent the two concepts of 'Bring-Your-Own-Device' vs. 'Corporate-Owned-Personally-Enabled.'
COPE
The COPE strategy allows businesses to have standardized technology and insurance for broken, stolen, or lost materials. Though COPE has its benefits, it can quickly get expensive. Some phone companies offer business plans that run at about $1,600 per month for 20 reps. if the benefits of COPE are pertinent to your business, you're looking at $19,200 per year for mobile devices. Luckily, COPE is not the only way to put a device in the hands of a rep. Often, they already have one there. That's how BYOD works. Instead of the company providing hardware, the employee uses their own. A study by MarketingCharts.com showed 65% smartphone penetration in the US, an 11% increase from the year before, which means most of your reps will already have the tool they need to make the switch from paper to mobile forms.
BYOD
BYOD is a lot easier on the company's wallet, as it completely eliminates the material cost of a device. It also lends itself to an easier transition into mobile forms. Because reps already know how to operate their device, management can save significant time on introducing new hardware. For the purposes of cost analysis, we will assume the company decides on a BYOD path. So, at this point, you have NO material costs for hardware at all. But you still need access to the mobile forms and field reports. How does that work? The most cost-effective option for mobile forms is a Mobile Data Collection Software. Usually, this comes in the form of an application your reps can download to a smartphone or tablet. There are two main types of mobile forms apps for small business field management.
The first is a 'pay-per-franchise' app wherein a business pays a flat rate for all the services the app provides. The average cost for this type is $115 per month for the whole company. For a year, the "pay-per-franchise" app will be about $1,380.

The second is a 'pay-per-rep ' app, which gives the business the ability to only charge for the reps it has using the app. On average, this type costs $37 per rep per month. Additionally, some Cloud-based solutions offer it for as low as $15 per rep per month. If you have 15 field reps, you could being paying as little as $2,700 per year for your material cost. If you average the cost of these two options, the material cost of an app will be about $2,040 per year.
It is important to keep in mind, though, that when a business invests in a Mobile CRM app, they are paying for much more than forms. Often these mobile forms app come with GPS tracking, time clock, and messaging abilities. So while it may seem the material costs for Paper vs. Mobile forms are close, you're really getting a lot more value for your money when you choose mobile.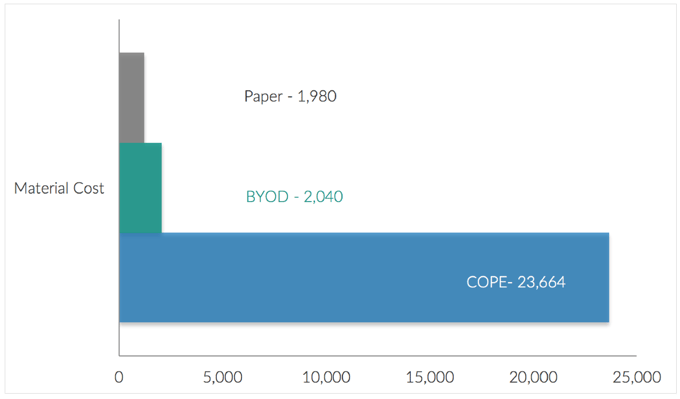 * Cost analysis based on estimated averages and has been multiplied to reflect the cost for a business of 15 field reps