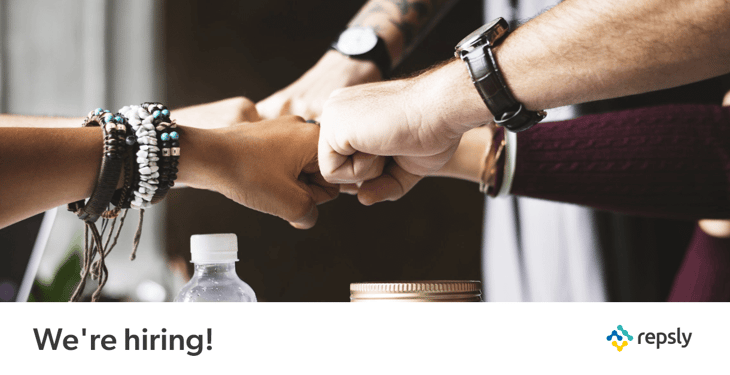 Senior Product Marketing Manager

Department: Marketing
Reports To: VP Marketing, Cait Will
Location: Boston


About Repsly
Repsly is a retail execution platform that enables field sales, marketing, and merchandising teams to be more effective with their time, and empowers field managers to take control of their brand and team performance.
We are SaaS-y. Our cloud and mobile solutions are focused on simplicity, enabling over 1,000 customers in 0 countries around the world. We are also a global company with headquarters in Boston, USA & Zagreb, Croatia and partners world-wide.
We are rapidly growing and company-culture is very important to us. We pride ourselves on being
customer-centric, collaborative, agile, energetic, data-driven, and hard-working.
If you are looking for an opportunity to combine your brain, passion, positive energy and confidence to play a meaningful part in the growth story of a successful software company, then Repsly is a great fit for you.

The Role
The Sr. Product Marketing Manager is a pivotal role within the Repsly marketing organization, and is responsible for helping craft and evolve Repsly's product and G2M story - from our product messaging and positioning, to product launch plans, to sales and customer team enablement and support for all of Repsly's products. They will report directly into the VP of Marketing. They are an ultimate expert on our buyers and our customers, their challenges, how and why they choose solutions like Repsly.
They know our competitors inside and out, and they use that knowledge to create and deliver outstanding product content, enable the sales and customer-facing teams, and ensure successful and consistent execution of product launches. This role is a very collaborative, cross-functional role, having the opportunity to work closely with Product, Sales, and Customer Success across Boston and Zagreb, Croatia.
This lead also drives our Customer marketing roadmap and initiatives in partnership with our Customer marketing associate (your direct report) - helping to drive our marketing roadmap in an effort to drive value, adoption, retention, expansion and upsell opportunities within our customer base. They partner closely with our Customer Success organization to align on Annual and Quarterly goals, and work with the Marketing team to craft & execute a roadmap in support of those objectives.
Success in this role is measured by
Quality of messaging strategy, in terms of clear and differentiated value propositions and identification of personas that all messaging is directed to.
Preparation and management of the product release process in partnership with Product managers. Very strong project management skills, and success with stakeholder management and alignment.
Definition and execution of a customer marketing roadmap in service of both Product Marketing and Customer Success goals.
Quality and usage/adoption of all sales and CS materials in the way they were intended.
Analysis of win/loss data, and competitor intel, as an input to marketing plans, sales strategy or product strategy inputs.
Responsibilities
Messaging & Positioning [25%]
Develop core messaging, positioning, value propositions, benefit statements, buying personas, sales playbooks, case studies and other content necessary to inform marketing programs, sales campaigns, the web site, webinars, videos, blogs and events.
Development of messaging that uniquely differentiates us from the competition.
Be the expert on our buyers, how they buy and their buying criteria. Live and breathe them.
Product Launch [25%]
Plan and drive launches for major product release, as well as the introduction of high value product features. Collaborate with the Marketing team to create campaign assets that deliver results when appropriate.
Be a product expert for the sales and customer-facing teams, & partners.
Customer Marketing [20%]
Working with your direct report, you'll define & execute a quarterly Customer Marketing roadmap in support of launches, retention, onboarding, upsell and expansion priorities in that given time period.
You'll partner with the Customer marketing lead and larger teams to oversee the crafting and design of campaigns to support both brand, product, and customer success goals.
Sales Enablement [15%]
Communicate the value proposition of the products to the sales team and develop the sales tools that support selling leveraging our differentiators.
Craft and communicate collateral around product features, best practices and benefits, including presentations, web content, infographics, social content, solution briefs, videos, blogs, and whitepapers
Competitive Analysis & Market Research [10%]
In partnership with Marketing leads, help maintain and evolve our competitive intel and market research to develop insights about our market segment, personas and key use cases. Maintaining our competitive positioning content, battlecards, and win/loss data every 6 months to ensure we know what is fresh, and most important for our G2M efforts.
Content Marketing [5%]
Provide messaging guidance to the blog, website and other content production including general strategy, and guidance to our writers on topics for our industry segment.
Requirements and experience

How do you know you're a fit for this role?
You have excellent written and verbal communication skills, with the ability to synthesize complex content into a clear and cohesive story.
You get excited to concept, storytell, and brainstorm with teams, and collaborate with creative and analytical thinkers - to support how we evolve our go-to-market with our product, and campaigns.
You're data-minded with strong data and analytical capabilities.
You're known for your strong organizational skills and attention to detail (to ensure tight deadlines are met and no balls get dropped.)
You are able to work with minimum guidance and take initiative regularly.
Have at least 5-7+ years in a Product or Customer Marketing role


Other qualifications
Experience in SaaS, Technology, Software, or other ancillary industries.
Benefits and compensation
Pretty important information, right?
401k, with 4% match
80% coverage of health insurance, from day 1
3 weeks vacation pay plus paid holidays
To apply, send an e-mail with a cover letter and resume to: careers@repsly.com.
Repsly is an Equal Employment Opportunity Employer. All qualified applicants will receive consideration for employment without regard to race, color, religion, sex, national origin, sexual orientation, gender identity, disability and protected veterans status or any other characteristic protected by law.