Managers: are you frustrated with the lack of visibility you have over your swimming pool field service team? Do you feel that the pool and spa professionals you manage aren't reaching their full potential? Are you concerned about the health of your client relationships? If you're thinking to yourself, "yes, my team could be doing so much better" after contemplating those questions, then it's time to consider using a pool service software!
Better Customer Service
One benefit of employing a pool maintenance software solution is that pool technicians are able to deliver impeccable customer service. This is achieved through a variety of functions, which can be found in most pool service software solutions. One example is the capability to send digital proof of pool service documentation directly to customers via email. This practice puts clients at ease knowing that their needs have been addressed and prevents discrepancies in client records.
Another way that pool management software promotes customer service is through visit scheduling. Efficient pool service scheduling is crucial for all pool service businesses because it ensures that pool technicians are spending an adequate amount of time at each client visit and are allotting their time appropriately. Keeping pool technicians' schedules available in the cloud makes them accessible to managers who can send relief to a given location if necessary or reach out to a pool technician who is late for a visit or skipped it altogether.
Some pool maintenance software solutions are equipped with the ability to access client histories straight from a mobile device. Having real-time access to this data allows pool technicians to arrive on-site with the most up-to-date and relevant information on clients, leading to better job performance. Having client data stored in one place enables pool technicians to stay organized and pull up the information they need at a moment's notice. Essentially, swimming pool service management software can help businesses differentiate themselves from competitors by empowering pool technicians to administer superb customer service.
Improved Productivity
Simply put, managers who have visibility of their remote teams can help them work more productively. Employee monitoring is a vital resource for managers of pool maintenance teams. Technicians spend at least 13% of their day on the road, so getting from place to place using the most strategic routes boosts their overall productivity.

For example, managers who can locate a technician's precise location using GPS technology are able to see if that individual will be late to a visit and can send backup to make sure the client receives service. In short, employee monitoring lets managers help technicians make the most of their time in the field.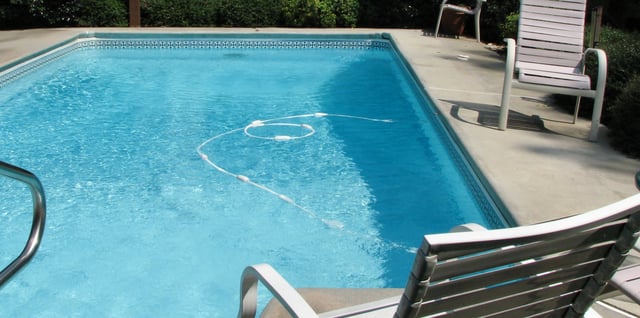 Pool service software can also improve productivity with its reporting feature. This function allows technicians to automatically generate reports of their completed activities for a particular date range within the a mobile application. These reports can then be sent to management in real-time for analysis. Managers may choose to alter a particular technician's responsibilities or provide them more targeted feedback about their performance based on the data in these reports. What's more, some pool maintenance software include instant messaging, which makes communication between technicians in the field and managers in the back office seamless.
Strengthened Client Relationships
Any business's most valuable asset is its customers. Pool service software can be used to bolster relationships with clients through real-time data collection. By acquiring information about clients' preferences, their most frequently purchased products/services, among numerous other points of interest, technicians can meet customers' unique demands and take advantage of upselling and cross-selling opportunities. Similarly, managers can use this data to create effective territories or execute sales strategies. Pool service software that uses the cloud stores all of this data in a centralized location, keeping it organized and available to any team member at any time.
Pool maintenance software also aids in streamlining billing operations, as technicians can invoice customers on-the-spot after completing service. Automated invoicing also helps to mitigate human errors associated with manual documentation, which can irritate managers and weaken relationships with clients.
Being able to accommodate clients' demands and make operations more efficient both have an impact on a swimming pool service company's bottom line. Moreover, the ability to delight customers is what sets pool and spa businesses apart from their competition. Any pool service organization that is looking to better manage its field teams' activities should take advantage of a pool service software solution.
Victoria Vessella
Victoria is a Marketing Associate at Repsly, where she leads the company's P.R. and social media efforts. You can also catch her prepping for slew of exciting industry events. A New England native, Victoria has spent time living in Italy and traveling throughout Europe before settling back in Boston. When she's not planning her next trip, V is probably tasting wine or brushing up on her Italian.