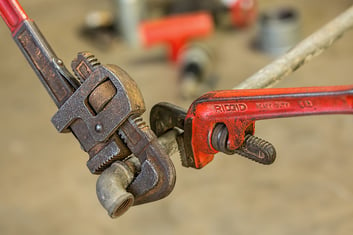 Effectively managing territories is a vital skill of any field team manager. In the maintenance industry, it can be a key factor of customer service success. In fact, some of the biggest challenges facing maintenance field teams can be solved by intelligent and careful territory management. By leveraging a Mobile CRM software solution, maintenance businesses can benefit in these core areas.
1. Avoid Tardiness:
For any service industry, promptness is a crucial factor in customer service. Clients are usually in one of two positions: They are waiting for a repair, and/or they have taken time out of their schedule for a routine checkup. Showing up late or missing an appointment can be damaging to the business's reputation. A look at customer reviews shows that nearly every positive experience mentions the rep being on time or early to a visit.
Tardiness and missed appointments may indicate poor territory management. When managers manually assign reps to locations, it can be easy to forget one or two clients. By leveraging Mobile CRM software, back-office managers can see where each rep is in the field real-time. Having this overall visibility allows managers to see that all projects have been assigned and are being executed. And if a client has been missed, it is immediately clear who the closest rep is that can be called in to cover. That way, your clients will be serviced without ever knowing there was a problem to begin with, raising your level of customer satisfaction.
Download our FREE Territory Plan Template Toolkit >>
2. Save Fuel and Time:
Maintenance field reps spend a great deal of time traveling between clients, and nearly 70% of industry managers named "transportation costs" as a core business cost. Since fuel is one of the most direct and unavoidable costs to maintenance businesses, managers should always be looking for ways to decrease it. Though, it can be difficult to shorten routes and define more efficient territories without a system of tracking your reps in real time.
A Mobile CRM software solution can track the mileage of the routes and identify inefficiencies. Having the mileage counts will aid managers in determining appropriate pricing structures throughout the year. Additionally, managers will be able to guide reps on different routes that will use up less fuel. The money and time saved from efficient territory management will allow reps to focus centrally on high quality customer service and give managers a better sense of the business's budget.
Click here to learn more about Repsly's Time and Mileage Tracker Feature >>
3. Develop Relationships:
For maintenance businesses, catering to customers' needs is a very important skill. In fact, research shows that, in the maintenance industry, negative customer service experiences are strongly tied to declining revenue. To ensure that your maintenance business retains quality customer service, you'll need to establish positive relationships with clients. This is especially true for routine maintenance businesses, who see the same clients continuously.
By implementing a Mobile CRM software solution, reps can be assigned to the same territories on a continuous basis. Managers can also see where each of their reps is in real time, making it simple to see where re-routing can save on travel time and fuel. When clients see the same familiar face whenever they need a repair, they feel personalization, which is one of the highest ranked customer service values. Between efficient routes and familiarized relationships, your reps will have more time to spend face-to-face with the customer, making them feel special.

Since the main function of maintenance field teams is to remedy a problem or ensure a problem does not happen, customer service is key. To raise the overall level of service, maintenance industry managers need to implement Mobile CRM software. The tool will provide territory management functions that will help reps avoid tardiness, save fuel, and establish positive client relationships. Developing a territory plan with field-based software and executing it will rank your maintenance business above the rest for customer service, and put it on track for success.
Erin P. Friar
Erin Friar is a Content Marketing Journalist Intern at Repsly, Inc. and is completing a Journalism degree at Suffolk University. She is a master of grammar and is passionate about creating fresh content to help foster efficiency and overall success in small businesses.