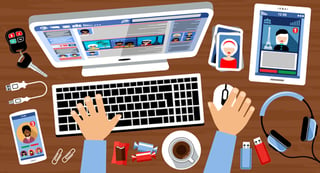 By now, everyone should understand the value of fantastic customer service. According to this research report conducted by Zendesk, 95% of customers share bad customer service experiences, and 87% share good experiences. What's more, 45% share bad customer service on social media, and 30% share the good—and once the story is online, it is very easy for it to go viral quickly. Providing good customer service is not too hard; it involves a lot of common sense and rational employees. Providing great customer service however, is far more difficult. Especially for those organizations working with representatives in the field, maintaining great customer service and completing day-to-day operations can feel like an insurmountable task. This is where real-time communication comes in.
Real-time communication has been around for a while, but only recently has it become practical and efficient for field-based organizations with the emergence of cloud-based software. While in the past field team managers could call up employees to deal with issues as they arose, real time communication has evolved from a verbal transfer into a transfer of information, images, and status. This means that managers can now see where their representatives are and receive information about their current work status as it happens. The use of digital forms allows managers and business owners to get purchase orders and retail audit data as reps record it. If there are any anomalies with an order, or immediate action needs to be taken after a retail audit turns up an issue, managers are empowered to remedy the situation before it becomes a bigger problem.
So how exactly do these improvements in manager to employee communication benefit customers?
With the old system, we may see an example like this: a customer is waiting patiently for a field rep to arrive at a pre-determined time. After fifteen minutes pass, the rep still isn't there, and the customer calls the company directly. A new rep is assigned to the location, and the customer is serviced 40 to 50 minutes later.
The advances in real-time communication means that before the customer has any idea that something is wrong, field team managers can see that their reps are not in the area or are stopped for some reason. They can contact the employee to diagnose the problem, and quickly re-route another representative who is nearby to reach the customer by the correct time.
Out of these two scenarios, which customer is going to be more likely to recommend the business which serviced them? While it differs from organization to organization, there is a quantifiable ROI for quality customer service, and companies which refuse to adapt to new technologies and business practices will find themselves left behind.
Communication and customer service go hand-in-hand. Field Activity Management Software and the incredible spread of smart mobile devices has increased expectations of businesses, employees, and customers across the board. What was once considered the standard for customer service is no longer good enough.