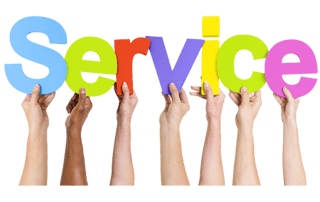 Small and medium sized businesses (SMBs) have long understood the value of exceptional customer service. Managers understand that catering to clients' needs and wants encourages valuable lead generation and customer retention. Yet, there is recent research which suggests that customer service is no longer just a bonus to business, but a key factor in penetrating competitive markets. This news is especially important for SMBs who primarily function with field teams, such as beverage or medical supply businesses. When staff members are physically separated from each other and their managers, customer service can be more challenging. Take a look at what customers ranked as the most important service values and how field teams can fulfill them.
1. Personalization:
More than 24% of clients in a recent study rated "personalization" as the most important customer service value. For field based teams, this means exhibiting a level of customized attention with retail partners that carry your product. Retailers are partnered with not only your SMB, but with the many others that provide the products on their shelves. Clients want to remember a person, not just a company. They want to see a "Jim" rather than a "person from Jim's company." When clients want to communicate a problem they want to have a contact. By consistently having access to a client database that is updated in real time, you can ensure a personalized customer service experience.
Mobile CRM software allows back-office managers overall visibility of each client in the database. From a general view, managers can see the last activity that took place with that client, and which rep performed it. Additionally, when looking into specific client data, information such as the client's status (active, lead, prospect, etc.), contact information, and any notes reps have left regarding the client are available. Having this quality of client information available in real time will equip both managers and reps to provide customized, personal customer service.
2. Integrity:
When SMBs sign on with a retail partner, they expect that their product will be stocked and merchandised as agreed upon in the contract. That means that product is continuously stocked and the product is on the correct shelf. It's not surprising that retailers have similar expectations for their SMB suppliers. In fact, the second highest customer service value ranked in the above study was "integrity." Retail partners will appropriately stock and merchandise product so long as their partners hold up their end of the deal by delivering products on time.
One way to ensure that your retail partners receive products in a timely manner is through digital ordering management. This feature, offered by many Mobile CRM tools, allows reps to place purchase orders and capture client signatures through their mobile phone. By eliminating physical paperwork, reps will have more time to focus on the accurate entry of purchase orders, and can even have clients look them over before finalizing. The efficiency and accuracy of digital forms will help purchase orders be more consistent, leaving your retail partners satisfied with the integrity of your business practices.
3. Time and Effort:
The third highest customer service value in the study was "time and effort." For SMBs, this means that your retail partners expect a rep who is highly invested in their interests as well as potential problems. You want reps who are highly engaged with their responsibilities and aligned with the company's goals. It can be difficult to find these individuals and even more difficult to retain them, especially if you are a young SMB. One way to ease the hiring process and avoid costly employee turnover is by examining your current high-performers.
By leveraging a Mobile CRM solution, SMBs can evaluate the performance of field reps in areas like client visits and sales. Using these rankings, managers can quickly identify which reps are high-performers. Once you know who these individuals are, watch them more closely to see what personalities and interests they may have that contribute to their positive job performance. Then when you're hiring new reps, you will know what kind of people will show the appropriate passion and discipline to perform the job correctly.
Getting Ahead
For competitive SMBs with field-based teams, exceptional customer service is vital. A positive experience with your reps could bring in a new retail partner. To offer your clients the very best service cater to these top 3 customer values. By integrating Mobile CRM software, your reps will be able to personalize client visits, show professional integrity, and leave an impression of true effort. These three focuses combined will put your SMB one tier above the rest in customer satisfaction.
Erin P. Friar
Erin Friar is a Content Marketing Journalist Intern at Repsly, Inc. and is completing a Journalism degree at Suffolk University. She is a master of grammar and is passionate about creating fresh content to help foster efficiency and overall success in small businesses.