---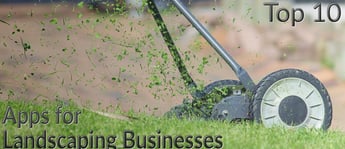 Why Should Landscapers Bother With Apps At All?
Busy season is right around the corner for landscapers, and the influx of work that comes around this time of year also brings it's share of headaches. Here at Repsly, our customers in the landscaping industry have helped us to get a first-hand look at the problems they faced on a daily basis before using Repsly. Landscapers often don't have easy and immediate access to a laptop the same way they would a phone, and a small setback can become a huge hindrance if not addressed quickly.
While I won't promise to alleviate all of the headaches that come with being a landscaper, I'm hopeful that these ten landscaping apps will make each job a little bit easier.
---
We'll go full-disclosure here: Repsly isn't the best solution for every landscaping business. If you're a one-man operation, or an enormous company with thousands of employees, we're not going to be the right fit for you. Where Repsly really shines with landscaping crews is in small & medium sized businesses.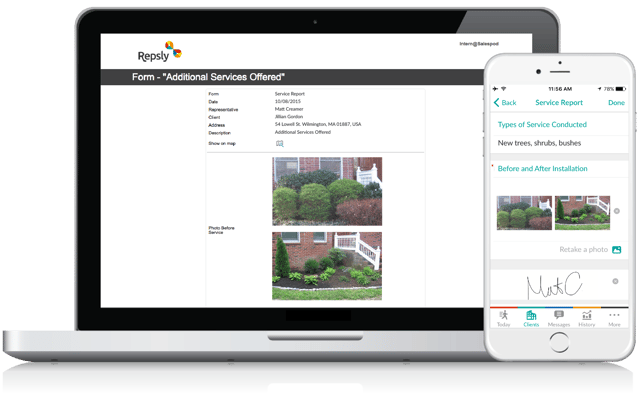 Among other features, Repsly's landscape management software gives managers the ability to create custom forms, such as project estimates, job checklists, and customer satisfaction surveys. Landscapers at client locations can fill out those forms on their phones or tablets, provide photos of the work done, collect client signatures on work completed, and communicate with the rest of their team in real-time.
Additionally, Repsly let's managers see exactly where and when their landscapers check in at client locations. As soon as a crew member arrives at the saved client location, they can start the job from the Repsly mobile app, causing a pin to appear on the manager's map view.
With flexible pricing, full QuickBooks integration, (see below!) and fantastic customer support, Repsly has already been adopted by landscaping businesses everywhere. There's a 14 day free trial too, so give it a shot and see what you think!
You've probably heard of QuickBooks, and for good reasons. Their invoicing and accounting software are considered by many to be some of the best apps for landscapers. You can do everything from cutting paychecks to sending invoices, and you can easily keep track of all your landscaping expenses at the same time.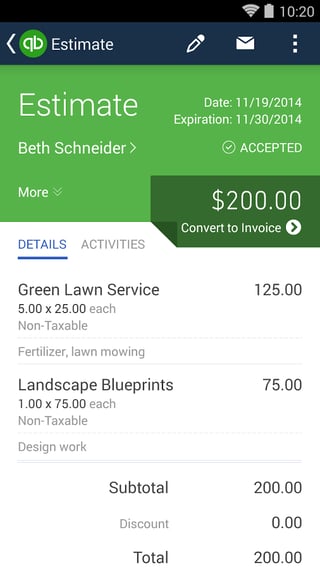 Provide Clients With Estimates, Then Bill Them When The Job is Done.
With over one million users, QuickBooks hardly needs an introduction, but if it's not already part of your landscaping business app arsenal, it's time to seriously consider adding it.
Platforms: iOS
With a name like Landscaper's Companion, you'd hope that this app would deliver, and it does. With a fully searchable plant catalog, and the ability to add your own plants and photos, you'll never have to worry about explaining to a client why a specific plant can't go in the back left corner or their sunless yard.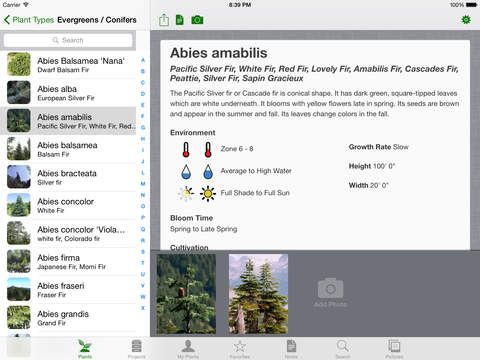 Quickly Identify Planting Requirements and Plant Species From Your iPad or iPhone
Want to show clients what plants your landscapers will be planting, before you actually meet with them in person? You're in luck. Landscaper's Companion allows you to share photos with any email address, easily.
Price: Free
Turfpath is a crowd-sourced app built for the turfgrass industry, primarily through the contributions of four experts in the industry. At it's most basic, TurfPath is a pest identification app. It provides images of various pests, weeds, and dangerous elements that can ruin an otherwise beautiful landscape. Beyond this, TurfPath acts as a congregation of social-networks to bring together all questions and answers related to pest control. User submissions contribute to an ever-growing catalog of diseases and pests, and push notifications keep users alert with up-to-the-minute information.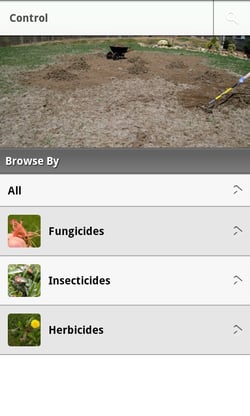 Identify & Eliminate Harmful Pests Quickly & Easily.
If you deal with pests or weeds on a regular basis, TurfPath is a no-brainer. It's free, multi-platform, and is always getting better. Do yourself a favor and pick this one up.
Price: Free
Planning on putting in planters, laying down new soil, or doing basically anything that requires precise leveling? iHandy Level is literally by your side. Although most landscaping businesses are well equipped with levels, sometimes it's easier to just pull your phone out than to walk back to the truck.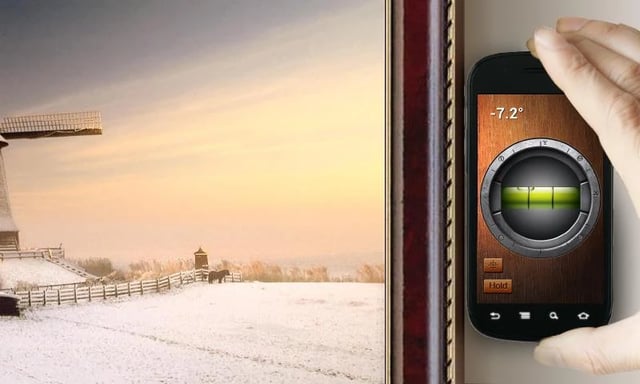 Whether You're Using It For Picture Frames Or Planters, iHandy Gets The Job Done.
What separates iHandy from the rest of the level apps on the market is the ability to calibrate the level if it seems off. It certainly doesn't hurt that iHandy is perhaps the best looking level app on either app store. Overall it looks good, fulfills it's purpose, and can be fixed if you think it's wrong. And really, what more can you ask for from a level app?
Price: Free
Platforms: Android (LikeThat Garden) / iOS (Leafsnap)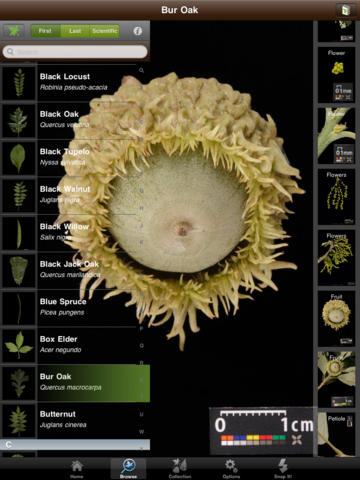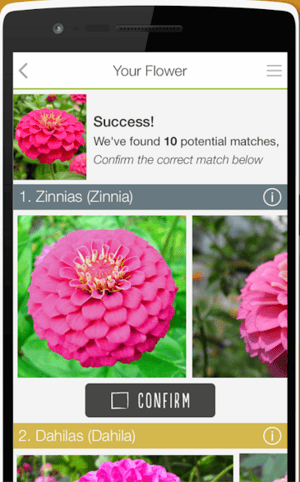 LeafSnap (Left) & LikeThat Garden (Right) Help Landscaping Teams Visually Identify Flowers, Trees, & More.
Both LeafSnap & LikeThat Garden act as virtual field guides for their users, by identifying plants, trees, and more, and then providing a ton of information on each. The major feature available in the two landscaping apps that is absent from many competitors is a photo-identification feature, meaning you can take a picture of any plant, and the app will present you with a series of close matches.
You can easily explore thousands of plants you've never heard of before, making this perfect for flora enthusiasts, arborists, and landscapers alike. They're free, so there's no reason for you not to download and give either of these apps for landscapers a chance today!
Platforms: iOS
iScape is one of the few paid apps on our list, but at $9.99, it's still a tremendous value. Available on iPhone and iPad, iScape is a landscape designing sandbox that utilizes your immediate surroundings. Take a photo of any work site, and you can immediately being making changes to illustrate what your finished job will resemble.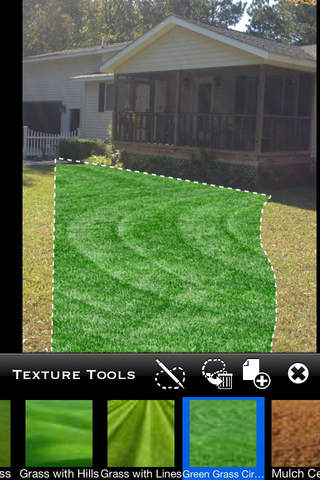 "You see sir, this is what your grass would look like if it wasn't all completely dead."
Landscapers can highlight a section of grass, and change the texture or material with just a few button presses. Add flowers and trees to your landscape from an extensive catalog, and impress your clients before you've done any work at all.
Price: Free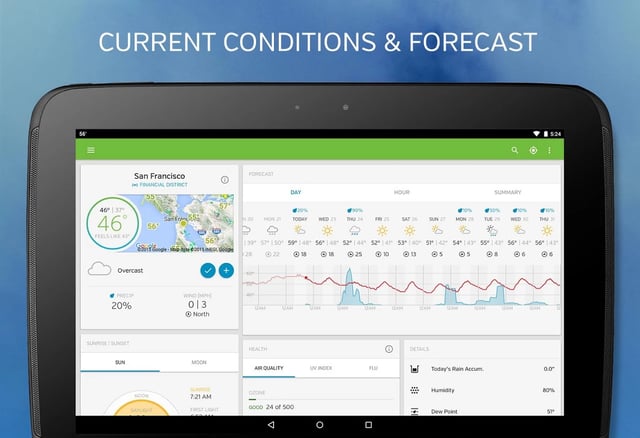 You Can't Stop Inclement Weather From Ruining Your Day, But You Can Anticipate It.
When your entire job can be thrown off by inclement weather, it's important to stay up-to-date. Weather Underground keeps you informed with real-time weather updates, customized for your area, and gives it to you in an easy to understand and aesthetically pleasing interface. Need even more minute details than cloud cover and temperature? Weather Underground provides sunrise and sunset, air quality, and so much more.
It's not going to ding your wallet at all, and it's an order of magnitude above most other weather apps on either app store. Give it a try on your phone or tablet of choice and you'll never want to switch to anything else.
While it may not be the right choice for every landscaping business, square is an easy-to-implement and reliable payment solution for most landscaping businesses that want to accept payment on-site.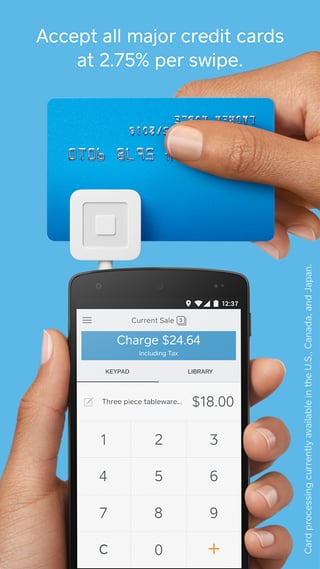 You Can Also Accept Chip & Electronic Payments Using The Square App & Card Reader
With a non-invasive card-reader that fits right into your phone, and an attractive pricing plan, Square has made it easy for entrepreneurs and small operations to accept credit card payments on-site from clients. You can add all of your services to a list and quickly create a client invoice, send receipts directly from the app, and keep track of all your non-cash transactions effortlessly.
Price: Free
Last, but certainly not least, Google My Business. If you do one piece of digital marketing for your local landscaping business, this should be it. By keeping your business information up-to-date, adding images and user reviews, and staying on-top-of mentions of your business name, you can be sure you'll be found online more easily. Google makes it easy for people to find landscapers near them, but they need to know you exist before they can send business your way!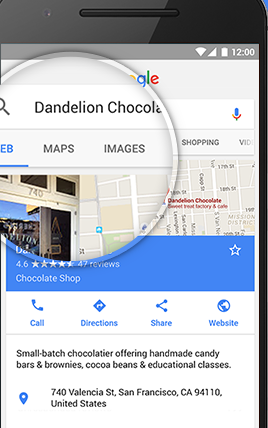 It takes virtually no time at all, and it completely free, so you have no excuse to not create a Google My Business listing.
---

IN CONCLUSION:
There's likely no size-fits-all landscaping app, but there are a multitude of cheap and free solutions that can make every day on the job a little bit easier and more stress-free. Leave paper in the past and make your business more digital! Your customers and employees will appreciate it.
---