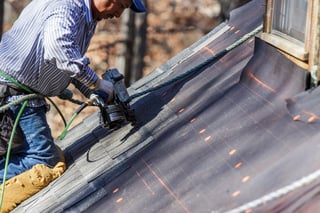 Anyone in the roofing industry knows that that quality control is of the utmost importance. Sloppy workmanship, poorly budgeted projects, unfocused employees and missed deadlines can all have a negative effect on customer satisfaction and retention. However, you can't control what you don't measure. Without the right framework for collecting, organizing and analyzing projects from start to finish, roofing companies can and will inadvertently make the same quality mistakes over and over again.
KPIs (Key Performance Indicators) are tactical constructs used in business to measure the success of individuals and organizations at achieving certain goals. With KPIs, you can better focus your efforts on improving the areas of your business that will have the most impact on overall success. Roofing companies hoping to set a high standard of work completed should track the three KPIs described below, making sure to tailor each to their businesses' specific needs and goals. For more information on KPIs, check out our free KPI template toolkit.
1. Callback Percentage
A lack of quality control can lead to projects that need to be modified or redone completely, resulting in customer frustration and increased costs. "If a client does not get the level of service they expect," Brian Leech of Service Legends, told ACHR News, "how many times does it take before they switch to a competitor?" In fact, unsatisfactory workmanship was listed in the Better Business Bureau as the number one customer complaint. Callbacks are also expensive, racking up extra costs in transportation, materials and employee wages. Reducing their frequency is essential to optimize revenue generation.
This KPI measures what percent of projects during a given reporting period required a return visit to correct a mistake that could not be billed. To track this KPI, contractors should require all callbacks to be recorded in detail, and should calculate callback percentage on a monthly basis. The more frequently that data can be collected and analyzed, the faster changes can be made to lower the incidence of callbacks. Calculating an annual callback percentage is useful as well for tracking year-to-year progress. Contractors should aim to achieve a callback percentage that is less than two percent.
2. Project Overrun
When customers hiring roofing companies to complete a job, the expectation is that the finished product will be in accordance with previously agreed upon time and monetary constraints. In initial meetings, roof contracts are expected to detail how the work will be completed, how long it will take and how much it will cost. Any time a project is overrun, it conveys a lack of governance and can negatively impact a company's bottom line. On the other hand, when projects are completed according to plan, contractors can better predict future expenses and set a precedent of accountability.
The Project Overrun KPI can help roofing companies stick to their established project schedule and budget, as well as identify reasons why a job ran off track. It refers to the percentage that a project's actual cost is above its budget, but can be expressed in terms of both actual time divided by planned time or actual cost divided by planned cost. In today's construction industry, cost overruns of 15% to 25% are not uncommon, though there has been movement to drive such rates down. One way to do so is to emphasize communication between roofing teams and clients, especially in the early stages of construction when budgets can be adjusted.
3. Recordable Incident Rate
Safety is an especially important concern for businesses in the roofing industry. According to study of roofing deaths in the United States conducted by the Center to Protect Workers Rights (CPWR), roofers have a work-related death rate of 29/100,000, which is more than twice that of the entire construction industry. Injuries on the job result in lost time and lost revenue, and they can also damage a business's reputation in the eyes of future employees and clients. As a result of both these financial concerns and ethical concerns for the safety of workers, implementing safety precautions should be at the forefront of all roofing companies' agendas.
The Recordable Incident Rate KPI is calculated according to standards set by the Occupational SAfety and Health Administration (OSHA). The incident rate calculated refers to how many employees were involved in a recordable incident (fatal, non-fatal and lost time) per every 100 employees. Smaller companies should note that, when calculating this KPI, they will most likely experience higher incident rates or greater fluctuation from year to year due to the lower number of labor hours worked. Incident rates are also more meaningful when compared to industry standards, which in the roofing industry for 2015 was 5.6.

There are countless other KPIs that can be used to measure quality control, but the three above offer a solid foundation on which roofing companies big and small, commercial and residential, can begin to increase their bottom line. The key is to add KPIs to your company's data collection strategy gradually, and to tailor each one to the specific needs and standards of your business.
Jackie Carney
Jackie Carney is a content marketing journalist at Repsly. Her experience in the field of startups has prepared her to create interesting and valuable content for a diverse group of readers.