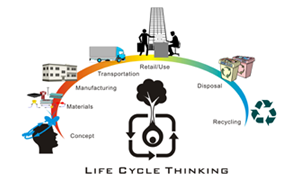 This is a guest blog post by writer, Ann Buechner.
It is no news that today's consumers are far more informed than those of decades past, utilizing a constant stream of media to be choosy about where and with whom they spend their money. Certainly a popular criterion people consider when supporting a business or company is eco-friendliness. Surely you've seen the stickers or labels attached that denote something as "green." And perhaps you've noticed that companies are quick to point out how they are addressing sustainability, whether that's on a website, such as Starbucks and Mountain Equipment Coop; the packaging of an item, like Coke's plant bottles; or the formulation of the product itself, such as Method.
This is not to say a company's only way to be sustainable is through the product itself. A great way to go green may be lurking in behind-the-scenes operations--specifically, in the supply chain. Take a look at Amazon's " Innovations for the environment," which outlines how its packaging, shipping, and warehouse practices have contributed to a smaller carbon footprint.
Such initiatives could also be applicable to your own business. At Environmental Leader, Jeff Sharstein names four:
Packaging - Try to use recycled materials whenever possible.
Go lean - Try to use less vendors or one vendor to manage your supply chain. In addition to being more environmentally friendly, you'll save time and money.
Be the consumer - Think of how to positively leverage your sustainability practices into attracting new customers.
Be a leader - Sure, it's great to look at all the amazing things that companies are doing, but wouldn't it be great if other companies looked to you?
Another way for your company to make the merchandising supply chain process greener is through reusable transport packaging. Justin Lehrer at Green Retail Decisions points out three possibilities:
Closed-loop retail - The company ships the products using reusable items, such as bins, crates, totes or pallets, and then the retail outlet sends back the shipping materials.
Third-party "poolers" - A third-party company is hired to collect, clean, and return the packaging items to the source company.
Redistribution of bulk shipments to retailers - To save money on the cost of reusable shipping items, think smaller. Instead of sending a large shipment of goods that a retailer would then have to store, send smaller shipments based on store needs. That way, your clients won't hang on to your shipping supplies for longer than is necessary, freeing your company up for more business.
Finally, The Guardian published these ideas on how to improve sustainability in a supply chain:
Get larger companies within an industry on board as their buying power could encourage sustainability throughout.
Work with other businesses, even competitors, to ensure certain standards are achieved across an industry.
Set up a forum for all members of a supply chain so that issues could be raised openly and addressed responsibly.
In large businesses, resources should be allocated to managing and auditing sustainability in the supply chain.
Encourage sustainability in corporate culture so that employees take responsibility for lowering ecological impact in their working practice.
How is your business practicing sustainability? We'd love to hear about it.