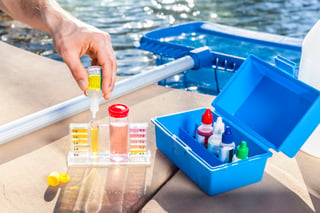 For pool service businesses, the changing of the seasons can pose a host of different challenges. The summer especially is a peak season for the pool industry, since frequent pool use necessitates more maintenance. Demand for pool installations is also high throughout spring and summer, as people are often prompted by rising temperatures to finally get that pool they've always wanted. This August, pool service businesses have a little bit of time left to make the most of summer sales with these three tips, ensuring that their businesses are primed and ready for the upcoming year.
Manage Your Technicians
In the summer, employee productivity drops across the board. However, in the pool service industry, field technicians are especially prone to exhaustion, overwork and burnout when it gets hot. Juggling more clients means more hours spent on-site and in the heat, which can easily lead to a multitude of healthy and safety concerns. From 2008 to 2014, The U.S. Department of Labor and OSHA recorded 109 heat fatalities in the United States, where about 2,630 workers suffered from heat illness in 2014 alone. Managers can prevent such incidents by ensuring that workers take frequent breaks, especially during the hottest part of the day, as well as by educating technicians about the signs of heat-related distress.
In addition, when employees are feeling swamped with the number of jobs they have on their service schedule, it can be tempting to skip a pool cleaning here or there to make up for lost time. This can be incredibly damaging for a business's reputation, especially for a fledgling company that still lacks a loyal customer base. It can also be damaging for client health; the Better Business Bureau reports that, "if pool maintenance contractors don't do their rounds as promised, it can cause health problems for anyone who goes into the water."
As a manager, making sure your technicians have completed the jobs that they were scheduled for is key to building customer trust. Implementing pool management software that requires technicians to check in and out of appointments as they are completed is a great way to monitor compliance throughout the busier summer season. Pool service forms can also allow technicians to record data and photos of the work they do, thereby providing a record for clients should there be any question as to whether a job was completed.
Monitor Your Marketing
During the summer months, a pool service company's sales funnel will likely reach its capacity. Rather than expending funds on broad direct marketing campaigns, businesses should prioritize completing the projects at hand to the best of their abilities. A focus on quality control in the summer rather than on outreach can increase your profit margins by eliminating the need for callbacks on repairs. In addition, satisfied customers are the perfect vehicle for word-of-mouth marketing, and you can prompt them to write glowing reviews of your company by offering discounts as an incentive.
Content marketing is also a great avenue to experiment with during the summer because consumers will be hungry for information on all things pool related. Marcus Sheridan, an owner of River Pools and and Spas, told the New York Times that "our whole marketing campaign revolves around getting people to stick around and read out stuff, because the longer they stay on our site, the greater the chance they're going to fall in love with our company." Consumers will inevitably be googling questions about pool maintenance during the summer months, so being the resource they turn to for their questions can convert into becoming the service they choose for years to come.
The summer months are also a perfect time for pool service companies to increase their PR efforts and create some valuable earned media coverage. "Depending on how you measure and monitor," Michael Levine, a well-known publicist and author of the book Guerilla P.R. told Forbes, "an article is between 10 times and 100 times more valuable than an advertisement." Media outlets are more likely to pick up and publish pool service related pieces during the summer because they know people will read them. Ultimately, the more you engage with community members through local news sources, the better chance you have of being the company of choice when people need a pool service solution down the road.
Charge Based On Demand
There's nothing wrong with charging more for pool maintenance during the peak times like the summer; in fact, charging too little can actually end up hurting your business rather than helping it. To be successful in the pool service industry, one needs years of practice, and as a result, customers are typically willing to pay more for quality, especially if they've already experienced buyer's remorse from going with the cheapest quote. Charging more for superior service under the constraints of a full summer schedule is absolutely appropriate and is what customers expect from the best pool companies.
It's important to charge your customers fairly for the services you provide. One of the main complaints against pool maintenance contractors according to the Better Business Bureau is regarding the markup on pool chemicals. The majority of pool companies today charge one flat rate regardless of the amount of chemicals used in order to eliminate confusion among clients about the costs of services, as well as to allow advance billing. However, charging a high flat rate as well as charging for additional chemicals is excessive, and customers should only be billed extra for the use of special chemicals.
While the sun is already setting on the summer of 2016, there are still a few weeks left to check your current practices against those outlined above, implement the ones that resonate with your business's needs, or at the very least, take notes for next summer. The good news is that, in most climates, people are able to keep their pools open through September or even later, meaning there's more time for your company to put these tips into action.
Jackie Carney
Jackie Carney is a content marketing journalist at Repsly. Her experience in the field of startups has prepared her to create interesting and valuable content for a diverse group of readers.