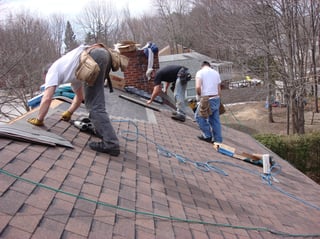 Starting a roofing business is a difficult undertaking in it of itself, but owners and managers often face even more challenges as the see their companies grow. The current roofing industry operates largely on paper, a system that has worked in the past but has limited future potential. Manual and administrative inefficiencies, customer dissatisfaction and high costs have long plagued roofing businesses in an industry where fast, quality service is essential to success. Mobile roofing software provides a simple solution to these problems. Designed especially for the kind of fieldwork and data management that roofing contractors engage in daily, mobile CRM makes the jobs of managers and employees easier in three distinct ways.
1. Increased Efficiency
Moving away from paperwork towards electronic forms, roof contracts, estimates and inspections is a key step in increased efficiency for roofing businesses. While physical copies can get lost in the shuffle and require tedious manual entry into a master database, electronic forms are customizable, shareable and recoverable. In addition, some mobile CRM options offer employee GPS tracking, which allows managers to track employees' activities, make sure that they are on task, and pinpoint day-to-day inefficiencies.
2. Increased Customer Satisfaction
With mobile CRM, transparency between customers and reps is greatly increased. All of the work done on site can be documented with photos and shared with customers and managers in real-time. This allows any issues that arise to be identified and remedied immediately, ensuring that the customer comes first. In addition, sharing digital forms between the customer and the contractor in real time builds trust and sets a higher standard of professionalism. Mobile CRM also stores customer information and keeps it up to date so that reps know exactly what to expect when going to a site.
3. Cut Costs
In the roofing industry, even the smallest of mistakes can be costly. Forgotten data can require a time-consuming return to the site and mistaken orders can lead to unnecessary or unused materials. With mobile CRM, required fields on pre-created forms ensure that reps won't move on to the next site until all relevant information has been recorded. In addition, mobile CRM tends to be cheaper than other options and therefore is a better choice for smaller and midsize roofing companies, especially those that want to scale their businesses in the future.
The global market for roofing is expected to grow to $90 billion by the year 2020, driven by urbanization and greater demand for energy efficient construction. Mobile CRM software will offer one way for roofing companies to adapt and ensure that their businesses grow with the changing industry rather than crumple underneath it.
Jackie Carney
Jackie Carney is a content marketing journalist at Repsly. Her experience in the field of startups has prepared her to create interesting and valuable content for a diverse group of readers.