At Repsly, we want to provide you with the latest industry specific news and advice on managing field teams, so we've put together a series of repsclusive interviews with experts in the field. We hope that through the series you will gain valuable insight!
Thomas A. Vessella Sr., Energy-One Inc.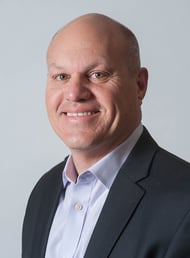 Energy-One Inc. started out as a small fuel oil company in 1945. In the early 1980s, it expanded service to heating and air conditioning, and in the mid 1990s, the company added plumbing expertise. Recently, Energy-One Inc. added sheet metal fabrication and installation to its service offerings. With over 5,000 customers, the company operates throughout all of Rhode Island and southeastern Massachusetts. Today, we speak with President Thomas Vessella to talk about his experience in the HVAC industry and some of its unique challenges.
Tell us a little bit about how you got your start in the HVAC industry. How long have you been in the business and how did you get into it?
Thomas: "I decided to expand an existing family business. I've been in the business for about 32 years. I kind of 'fell into it'; I didn't really plan on going into this industry. However, I did always want to own my own business since a pre-adolescent age."
In your opinion, how has the HVAC industry changed throughout the years that you've been in business? What challenges are present today that weren't an issue in the recent past?
Thomas: "The workforce is the first and foremost change. We once had a bountiful labor supply, and now we are scrambling to find qualified help. There is a lack of motivation to want to enter the trades and do entry-level work for low-end wages because people are impatient they want to make a lot of money right away. Another deterrent is licensing, which was formerly loosely enforced and is now strictly enforced. To get licensed, individuals have to get formal education which entails an apprenticeship as well as theoretical knowledge learned in the classroom. Apprenticeships range from 2-5 years. There is also a much greater emphasis on energy efficiency. Technology has revolutionized equipment design. Systems have become more sophisticated and much more technical. Communication speed and mobile/virtual productivity has increased service tech capacity. It has also increased point-of-sale billing and point-of-sale payment. There are much more stringent energy codes to adhere to and that has translated into increased project value [costs] for consumers. Energy code compliance has caused consumers to spend more money. Fleet management, thanks to GPS and mobile devices, has led to increased capacity for service techs, increasing our billable time. The challenge of all this is the integration of service tech, dispatch [office operations], and customer service requests. We don't have integrations but rather lots of stand-alone platforms."
What are your top challenges as an HVAC professional and business owner?
Thomas: "The top challenges are back office efficiency and productivity, and having one single integrated platform. This would be a single solution for accounts payables, accounts receivables, inventory, purchasing, and project management, job costing, and service dispatch. Other issues include attracting skilled help, keeping up with ever-changing industry innovations, and growing sales."
Do you have any ideas of solutions that could help you solve these problems?
Thomas: "Simple, user-friendly applications/platforms/programs for integration. I want a solution that is 'point-click-go', self explanatory, and requires little to no training. I want the 'iPad idea' applied to my industry. When you use an iPad, it's obvious where the power button is and easy to figure out what to do with it once it's onn. You don't need to read 100+ pages of manual to figure out how to do something."
Describe some issues regarding staffing and personnel that are burdensome for you. What are some problems you face that are unique to managing field teams?
Thomas: "Mobile solutions are instrumental to the success of productivity, which is ultimately billable hours. I need time tracking and location tracking, and help keeping employees motivated and engaged. I'm looking for ways to incentivize and reward productivity. I want to create a culture of success and motivation. For instance, I recently met my health insurance broker and we're thinking about implementing a new program. Currently, we pay 100% of coverage. Now, we are going to give employees 'health challenges' that they have to meet in order for us to give them 100% of health insurance coverage. These challenges could include a gym membership, pedometer/daily walking goals, wellness visits, healthy eating choices, etc. Other challenges are general logistics like traffic and weather, all of which are impediments to productivity."
Can you share any interesting/bizarre stories from your experience in the HVAC industry? They can be relating to customers, employees, colleagues in the industry, etc.
Thomas: "One thing I've learned over the years is the amazing way that complete strangers will open up to you tell you their trials and tribulations. We have become an arm of human services for people. I see this with my office staff; we are compassion providers because we are your local service provider. People treat us as their extended family. One day I went to see an older customer during the winter and she was crying because she had no one to get her milk and bread, so I went to get it for her. There was the time that I was attacked and bitten by two dogs, a rottweiler and doberman pinscher, about 12 years ago. I was at a service call at commercial account, and the neighbors that lived nearby forgot to lock their gate that and the dogs charged at me out of nowhere. I've also gotten to meet the richest man in Rhode Island."
If I told you that an affordable mobile software solution exists that could help you keep track of your service technicians and their activities in the field, would you be interested in it (such software is capable of GPS tracking, time & mileage tracking, instant messaging, virtual billboards, simple CRM, custom digital forms and purchase orders, geo-tagged photo capture, visit scheduling, and more)? Additionally, what features would you like to see offered in a mobile software solution for field activity management?
Thomas: "Everything you just mentioned hits the nail on the head. Actually this may sound crazy, but 'go-pro'-style body cameras that service techs could use to show someone at the back office what was going on during a service call would be very helpful."
Can you share any closing remarks about your experience, concerns, vision for the future, or anything that wasn't yet discussed in this interview?
Thomas: "My biggest concern is skilled labor; it's a serious problem, along with the rising cost to the consumer."
Victoria Vessella
Victoria is a Marketing Associate at Repsly, where she leads the company's P.R. and social media efforts. You can also catch her prepping for slew of exciting industry events. A New England native, Victoria has spent time living in Italy and traveling throughout Europe before settling back in Boston. When she's not planning her next trip, V is probably tasting wine or brushing up on her Italian.