Spoiler Alert! In the Netflix Original Series, House of Cards, Claire Underwood, the first lady, is in the running to become U.S. Ambassador at the United Nations. She destroys her chances at the senate hearing for her nomination when she slips up and says, "the military is irrelevant." But it wasn't this statement that lost her the votes; rather, it was her emotional reaction to Senator Mendoza aggressively badgering her on her four misspoken words. She got riled up, let it show, and fell short in votes.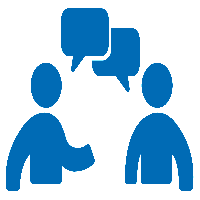 For field representatives or anyone dealing with clients there is a lesson to be learned here from Claire Underwood's situation: never let your emotions get the best of you! That is lesson #1 in dealing with difficult clients. As a team member doing field work, constantly interacting with clients, you are bound to run into customers who will challenge you and make your job a little more difficult than it has to be. In these cases, while it may not seem so, you have the power to take control of the situation, and it is your duty as an excellent field representative to do so.
When clients begin to display frustration and anger, remember that anger is a sign of fear. Try to take a step back and identify your customer's fears in the midst of their anger instead of reacting to their remarks and adding more fuel to the fire. Do so by listening attentively to your client and stepping in their shoes—truly understand where they are coming from and show some empathy. Entrepreneur contributor, Pratik Dholakiya, says to ask focused questions in a calm and neutral tone of voice to get to the root of a problem and show your client that you have their best interests in mind.


(http://philmckinney.com/wp/wp-content/uploads/2013/10/podcast_interview.jpg)

While it can be challenging to hold back your own frustrations, remember that conflicts that arise with customers are never personal. It's always about a business matter. Your client is upset by the situation, not by you. Psychologist, Sherrie Campbell, suggests imagining an audience when speaking to difficult clients. Act as if all eyes and ears are on you. Don't say anything or act in any way that you wouldn't want a large audience to hear or see from you. This will help you stay in the zone. And while you're on stage, why not tune into your inner Aretha Franklin? R-e-s-p-e-c-t. Everyone longs for respect. If you respect your clients, they're more likely to respect you back.
If it seems like your client won't budge, Campbell says it could be better to accept what he or she says even if you don't agree with it. "It's a natural behavioral mechanism that when a person is allowed to win, she will start to be more open to what she was fighting against," she says. Letting your client feel as though he or she has some control over the situation will ease their mind and make them more receptive to your opinions.
One of the most important things to remember is expediency. If your client has a problem or complaint, address it quickly before it gets worse or you lose that client. Immediate attention will make customers feel valued and stop them from spreading their frustrations to their peers. The last thing you want is a poor online review available for millions of users to see.
In the end, having an appreciative mentality will help you come out on top. Take any conflicts with customers as a learning experience to avoid future conflicts and understand your clients better.
Aya Tsuruta
Aya Tsuruta is a Content Marketing Journalist at Repsly where she covers sales and marketing content through a creative lens. In addition to writing for Repsly, she is a frequent contributor to the music blog, Indie Music Filter, and BC magazine, the Gavel.