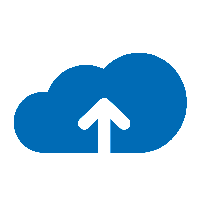 The cloud is becoming more integrated in both personal and professional usage. Though it is prevalent in various online conversations, the thought of the cloud continues to be an abstract one. What, then, is cloud computing, and what benefits will it provide you as a medical supplier?
According to the National Institute of Science and Technology, cloud computing is a "pay-per-use model for enabling available, convenient, on-demand network access to a shared pool of configurable computing resources (e.g., networks, servers, storage, applications, services) that can be rapidly provisioned and released with minimal management effort or service provider interaction." In other words, cloud computing is storing your data via the Internet on a remote service rather than on your local hard drive. This allows for easily shareable data, syncing it across multiple devices effortlessly. This is vital for medical suppliers, because it makes it easier to keep data organized, ensure timeliness, and avoid mistakes. ECHO International Health Services emphasizes that the right health sector supplies need to be available in the appropriate places, at the required quantities at the required time due to the sensitivity of the supplies delivered. Errors can be have a sizeable negative impact on your business- if you deliver the wrong product to the wrong physician, they may lose faith in your company and opt to find another supplier. If worst comes to worst, you could run into some legal issues as well.
Cloud computing will make your business run smoother, but what other benefits does it provide? The answer: real-time, quicker, easier, and cheaper access to data.
Real-Time: Cloud-based technology allows for real-time data to be shared among field reps, meaning that as each field rep completes their task, the forms they upload are updated constantly. For field teams distributing medical devices, this is important because it ensures that all the data is relevant and up-to-date when interacting with physicians. Managers can review the information and provide instant feedback if necessary, as the cloud-based system will free them from many tedious administrative tasks, leading to an improvement in both field rep and customer experience. It is important to maintain these customer relationships- there is intense competition for these customers and you want to build a strong, lasting relationship.
Quicker: Using the cloud means everyone has instant access to all of the data stored inside. It also removes the need for paper forms, which are unwieldy and can be easily damaged or misplaced. Doctors are notorious for their illegible handwriting- by using electronic forms stored on the cloud, you can bypass miscommunication from unreadable handwriting. This takes the guesswork out of determining which products to deliver to whom and helps reduce the possibility of delivering the wrong items. With all of the necessary information mobile, you only need your phone to access it. Field reps who are visiting multiple clinics, medical practices, and doctors each day will appreciate this, as it will allow them to visit more clients. Since medical supplies are regulated by strict FDA-mandated current Good Manufacturing Practices, the timely delivery of these supplies is of the utmost importance because a delay may cause a quality nonconformance.

You also save physicians time as well- the burden of paperwork is an immense one. 60-70% of a nurse's time is spent filling out paperwork, leaving only 30-40% for actual patient care. By reducing the amount of paperwork necessary, you can give physicians more time with their patients.
Easier: Medical suppliers often have large product catalogs (over 90,000 products in some cases) and extensive data. Cloud-based technology eliminates the concern about running out of space on the hard drive because everything will be stored in the cloud. If field reps need to pull something up when dealing with physicians, they can do so easily and immediately without having to search through files or call their manager. This will save time and improve customer relations. Time is precious to physicians - they are on a tight schedule and any delays may mean that they are able to see one less patient. By having all the necessary data at the touch of a finger, unintended delays can be avoided.
Cheaper: According to the Technology Innovation Management Review, cloud computing can save a company over $100,000 per year through the elimination of printing, hardware, and storage costs. Paper forms are costly; by using digital forms stored on the cloud, you can save up to $12,000 per year in paper alone. With the implementation of the Patient Protection and Affordable Care Act (PPACA) and a 2.3 percent federal excise tax on medical devices, the costs you save here can go towards counteracting the losses from the federal tax.
All in all, the cloud saves you time and money, both of which are precious commodities. It creates more consistency in the data and in communication, leading to an increase in productivity and consumer relations. It also allows for quicker delivery of time-sensitive supplies and reduces the possibility of litigation issues. As hospitals are progressing towards using the cloud to store patient information, it may be a good idea to progress along with them and use a cloud-based system for your own medical device company as well.
Nancy Chen
Nancy Chen is a Content Marketing Intern at Repsly, Inc. and is currently completing a Marketing degree at Northeastern University. A contributor to the national online publication Spoon University, she is experienced in delivering knowledgable, quality material to readers.