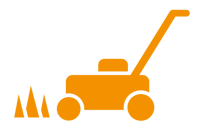 Landscaping can be a rough business—literally. Between mowing lawns, pulling weeds, and hedging bushes, there are plenty of opportunities for problems in the day-to-day routine of a landscaper. But what about those landscaper's managers?
Although they often move from one worksite to another throughout the day, many landscaping managers are expected to keep their entire team on task and provide a finished job that customers are happy with. In an industry where so much exposure is created through word-of-mouth, managers can't afford to leave a negative impression on their customers. With that being said, here are three things that landscaping managers are sick and tired of dealing with—and how to fix them.
1. Employees are off-task and out-of-sight
The Problem
Despite the fact that most members of a landscaping field reps work very hard, there are sure to be a few bad apples in every bunch. Field team members slacking off occurs in every profession, but can be even more damaging to a landscaping crew who not only need to pick up the slack of a coworker who is goofing off—but often need to work even harder to repair the negative perception caused by having a team member ignoring the job paid for by a customer.
If managers were present, it is much less likely that the team member would ignore their duty, but it is rarely possible to monitor each and every work site at all times. Managers need to rely on calling in once and while to see how the team is doing, and employees are unlikely to want to confess over the phone, in earshot of everyone else, that their coworker is not working.
The Solution
Equipping on-site team members with Landscape Business Management Software, either on a tablet or smartphone can alleviate some of the symptoms associated with a slacking employee. Find a real-time software solution which allows employees to check in on a map when they arrive at a work site, take photos of their work as it has been completed, and most importantly, facilitates real-time communication between managers and employees. By allowing employees to check-in, Managers can hold their entire crew accountable without the team feeling like management doesn't trust them.
2. Disputes over Existing Issues
The Problem
Sometimes a client may not have realized that their pavement had a crack in it, or that their front lawn had tread marks in it prior to servicing. Although this isn't the fault of the landscaping company, it can tarnish an otherwise pleasant experience for the customer and leave them with a bad taste in their mouth. Going against the customer's word after the fact usually does little to remedy the situation, and in the worst of cases, passions can flare and any chance for repeat business goes out the window.
The Solution
Set up a checklist for team members to address before beginning any work on the property. If there are issues which seem to arise more often than others, team members should be able to anticipate and take note of them long before any landscaping services begin. If this checklist can be coupled with photos and time stamped, even better. In this case, photos don't lie, and consumers will be far more likely to accept that their property had certain damages prior to servicing, and consequently, will feel better about the entire experience.
Creating customized forms can also come in handy with this issue. If particular clients have repeat issues in the same areas, creating a custom pre-work checklist for that client can nip it in the bud. One issue that may arise with this tactic is that creating custom physical paperwork can take a great deal of time, money, and effort.
3. Offering Additional Services
The Problem
If managers could be five different places at once, they would be. Unfortunately, most of the time managers can't be on site to talk with customers and suggest additional services that may be of use. Employees are unlikely to take the initiative to offer additional services or products on their own, as they are often unaware of what to look for on-site, and how to approach the customer to suggest improvements.
The Solution
Educating members of the landscaping crew in potential cross-selling and up-selling techniques is a great way to provide additional value to customers, and create new sales opportunities at the same time. Managers should take the time to provide an in-depth explanation of every service offered by the company, and convey to employees the various signs they should look for on-site when considering making an offer. Even better, if employees have the tools to send pictures of the site to managers in real-time, the manager may be able to offer insight into what should be offered to clients. Although managers will surely want to talk to customers on their own, having a crew that can create a great first impression and offer advice to customers will help to create a strong customer service culture that both your team and clients will come to appreciate.