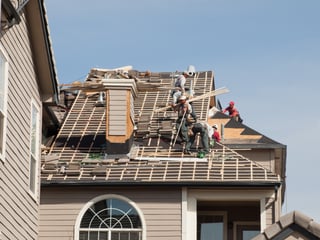 The roofing industry is one that can seem endlessly complex at first glance, full of technical terminology and diverse service offerings. Combing through all the online literature available can be time-consuming for consumers and roofing professionals alike, so we've compiled a list of the top 10 roofing blogs to follow right now. Each shares reliable tips and tricks for navigating the unique landscape of the roofing space, so bookmark your favorites and read away!


1. Roofing Contractor

As the official publication of the International Roofing Expo, Roofing Contractor is a great resource for all things roofing. While the blog does not post very frequently, most posts are written by the editors and as a result are well-written and full of useful insights. In addition to their blog, the Roofing Contractor site also features articles on twelve different topics, ranging from product features to safety tips, as well as columns written by industry experts. Overall, it's an authoritative voice for the roofing industry as a whole.

North American Roofing has been in the commercial and industrial roofing business since 1979, and their blog has been providing top quality content for the past eight years. NAR's blogs are useful because they focus on specific, actionable insights that their customers and industry partners can actually apply to their own situations. They also have an Executive Insight series featuring articles written by their COO and CEO, which is uncommon in large organizations.

3. GAF blog


The GAF blog bills itself as providing advice and information for roofing professionals, and it does not disappoint. With categories like Industry News, CARE Training and Sustainability, roofing contractors across North America can turn to GAF's blog for frequent and well-researched articles on important questions that roofing businesses face every day. Roofing companies can also submit their own stories to be published, creating a collaborative atmosphere around their blog.

This blog posts its content biweekly, making it one of the more prolific blogs on this list, and it occasionally enhances its typical informative pieces with video blogs. It's also totally geared towards the uninformed residential homeowner, and provides articles that help readers know what to expect when engaging the services of a roofing business.

This blog is notable for the detailed answers it provides for a variety of roofing questions that homeowners might have. The roofing industry is one that is foreign to most residential customers, and this blog does a great job of breaking down complex construction issues into digestible and actionable tidbits. Complete with definitions of terms like "underlayments" and "roof flashings" and debunked roofing myths, homeowners should bookmark this blog as a top roofing resource for problems big and small.

6. Roof Scoop

Roof Scoop is an industry blog from the National Roofing Contractors Association, and it focuses heavily on news stories relevant to the roofing community, often highlighting changes in roofing policy or regulations. While mostly tailored to the NRCA member community, this blog is still a good resource for seasoned roofing professionals who want to keep up with industry trends.

7. Advanced Roofing and Exteriors

This blog takes a Frequently Asked Questions approach to provide homeowners with advice on finding the right contractor, repairing different kinds of roofs, and when to get a roof inspection. While occasionally repetitive and tailored to a North Carolina audience, many of the questions asked and answered in this blog are applicable to residential homeowners across the country.

This blog stands out at first glance for its aesthetically appealing layout and eye catching headlines. It covers interesting topics such as custom metal fabrication, cool pigments, and roofing warranties. Both commercial and residential customers will find this blog to be a useful read, especially in a time crunch considering the articles are typically 500 words or less.

While this blog does not post very frequently, it offers a nice mix of new and feature focused content, answering questions for commerical roof owners while also covering news in the roofing industry. Each post is written with great detail and takes its readers through its explanations with a clarity that is especially important when covering some of the more obscure roofing topics.

10. Alpine Roofing Contractors Blog

This blog, created by ALC, a roofing company based in the UK, is notable for its great infographics. These pieces of content break down issues such as "Loft Insulation - How Much Could You Save?" and "Reasons Your Roof Might Be Leaking," into colorfully illustrated and easily digestible graphics, making it the perfect choice for visual learners. It also has plenty of standard blog content for those who just want their roofing questions answered.

Want even more information on the roofing industry? Check out our Guides and Resources for Roofing Companies for access to infographics, checklists and more!
Jackie Carney
Jackie Carney is a content marketing journalist at Repsly. Her experience in the field of startups has prepared her to create interesting and valuable content for a diverse group of readers.