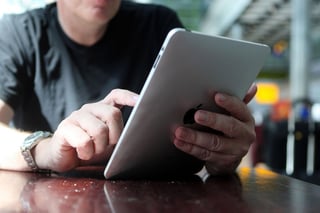 Nearly all business leaders know the dangers of employee disengagement. According to a recent Gallup study, only 30% of the American workforce is actively engaged at work. With so much room for improvement, businesses have a number of strategies to choose from to help solve the issue. One way for leaders to encourage more engaged employees is through the use of technology. Take a look at some core causes of employee disengagement and how a software tool can solve them.
1. Inadequate Resources
A USP Business Development report found "inadequate resources" to be one of main factors causing employee disengagement. There are two ways this can happen. First, the tools the team has may be meant for a different purpose. For example, field sales teams that fill out purchase orders need a tool that will enable them to efficiently and accurately perform that duty in the field. If they are forced to use a tool that does not support the right features they may become frustrated. Another way resources become inadequate is if they are so outdated that performing simple tasks is cumbersome and needlessly time consuming.
To fight employee disengagement, make sure to equip your team with a software solution that will directly aid their core activities and a hardware strategy that will allow them to consistently work with the best tools available. This is especially true for remote field teams that handle the majority of their work with mobile devices. For example, teams that perform merchandising audits, purchase orders, and track mileage should be using a Field Activity Management software tool that directly enables all these activities. Additionally, by implementing a BYOD (Bring-Your-Own-Device) hardware strategy, the business can cut major material costs while freeing employees to use their tools of choice, which are usually the most updated versions available.
2. Lack of Recognition
Another cause of disengagement found by the USP report was "lack of recognition." Just as with resources, this is a two-fold problem. Disengaged employees in this area feel that the positive work they perform is not noticed or appreciated, and also feel that the poor performance of others is not kept in check. When employees feel that performance is no longer being recognized, they are disincentivized to perform beyond the minimum requirements. With a system of accountability in place, it will be simple for managers to identify and recognize their top performers, while also holding low performers in check.
This is an especially critical element of disengagement that field team managers need to be tracking. With remote workers, it can be easy to forget the importance of recognition. With a Field Activity Management solution, back-office managers can easily create rankings of their employees in areas like sales and client visits. That way, it will not only be easy to identify top performers but the process will be fair and quantitative. In addition, managers can raise overall team accountability by implementing digital forms with requirements for employees to accomplish before finishing a project.
3. Poor Management
"Poor management" with significant ties to communication is another central cause of employee disengagement. In business, healthy communication is the foundation of expectations, responsibilities, and positions. Without it, employees are unclear where they stand with the business, how their position aligns with the organization's umbrella goals, and in what ways they can challenge themselves to grow. Field reps need to have healthy communication in all relationships whether it be with a superior or colleague. Without a streamlined system of communication, businesses risk demotivating, losing, and having to replace employees, all of which cause significant financial burdens.
At a base level, managers need to clearly communicate to their teams what each members' responsibilities are: from overall responsibilities that align with the organization's goals down to what a member will be accountable for in a single working day. By using a Field Activity Management software solution, managers can assign an employee to projects and can even send updates that appear inside those projects, so the employees know exactly what activity the update pertains to. Additionally, using a software tool for all communication, rather than spreading it out over different platforms (email, text, calls, etc.) will increase the clarity and efficiency of communication.
For businesses to remain competitive and continue growth, it is imperative to have a healthy level of employee engagement. Fighting disengagement in the workforce is not an impossible challenge. Business owners need to remain educated on the causes of disengagement and the solutions that exist to solve them. To address issues of resources, recognition, and management, owners should consider leveraging a software solution.
Erin P. Friar
Erin Friar is a Content Marketing Journalist Intern at Repsly, Inc. and is completing a Journalism degree at Suffolk University. She is a master of grammar and is passionate about creating fresh content to help foster efficiency and overall success in small businesses.